[AdSense-A]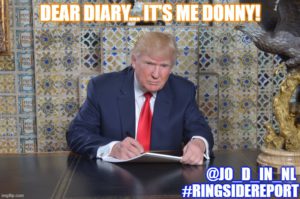 By Jo-Ann "Jo D NL" Duke
The diary scribblings of T4: Temper Tantrum Toddler Trump
Dear Diary,
Hey, big guy, it's me again. It's been so busy, with getting Rudi and the rest of my legal team out there to get attention on what I am saying about being robbed in the election.
They held a press conference and Rudi was telling everyone about all the evidence we have of all the voter fraud. Now mind you, they didn't give any of it to the reporters, especially the fake news reporters.
You know that they would print anything but what we give them; and they would say that none of it was true, because it's so obvious, that no matter what we say or show them, that they are so on Sleepy Joe's side.
How unfair can they be? They won't believe anything that would change the idea that he won; they cannot face the fact that is so true, that I won, especially since I was so ahead the night of the election, with all the votes.
I was, that was until all those so-called "legal" ballots started to be counted, and all of a sudden, then Sleepy Joe is pulling ahead and is suddenly being told he won. Yeah, right, like that is even really possible, as if.
I mean, like anyone who thinks about it, would believe that it could be really happening, the idea that Sleepy Joe could ever beat, especially by so many votes. No, you and I both know that is just so wrong.
Everyone knows how much all the people in America love me, and that's not even including all my followers who all voted for me. No, I am convinced that they did so many bad things to try and say that they won the election.
I am going to keep fighting this forever, I am not letting them get away with this; and no, I am not going to help Sleepy Joe move into my place; we will for sure prove that they cheated and lied; also, that I was right all along.
Well, thanks so much for all of this, and letting me vent, buddy. It is really helping me. You let me say what I think and you don't ever try to change my mind, you understand how I feel.
Bye for now, let's talk later, and love you.
Donny
Contact the Feature Writers