[AdSense-A]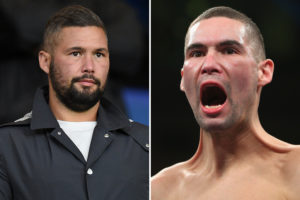 By Donald "Braveheart" Stewart
His contribution can be summed up in more than just, "in my opinion."
Tony Bellew, 30-3-1, 20 KO's has been one of British boxing's most important figures for the last dozen or so years. An already glittering career was ended when he went up to heavyweight and beat a guy with whom he went into the ring with as a huge underdog, before then slimming back down to take one of the master craftsmen of world boxing on in his final fight made his money; but Tony Bellew is so much more than his professional fight endings…
And yet, my admiration from him stalled at the beginning; at first, I could not stand him. Brash, arrogant, foul mouthed and hungry he stormed into my mind when he was drafted in to fight Nathan Cleverly. Cleverly cast a very different figure; to all intents and purposes a cultured man who had a mathematics degree, a fellow Celt from Wales. Cleverley's first title world opponent had been forced to pull out and in came a man who wanted to fight him, wanted to beat him up and couldn't stand him. It began a relationship between them that lasted from Bellew's light heavyweight loss to Cleverley and his cruiserweight revenge.
By the time he beat Cleverly as a cruiserweight my view and that of many others had changed. Bellew was still brash and opinionated but the cultural shift was palpable. We realized that Bellew, was a guy who knew his craft and how to express it. Like his punditry on television now, there is an air of knowledge, of knowing what he is talking and what is likely to happen from training, sparring and getting in the ring because he has the one thing you cannot learn as a non-boxer; lived experience of the craft. Of course, he is not the only ex-boxer who can claim that but Bellew has a clear-cut style of delivery that comes straight from his heart, often worn on his sleeve.
His beginnings in life and in the sport could be said to have made him. He was a decorated amateur at heavyweight, and he won three golds at the English national championships and one silver from 2004 to 2007. Raised in a notorious area of Liverpool – Toxteth (notorious to those who never lived there) he is of mixed heritage with a black mum and white dad.
Having fought at heavyweight in the amateurs and sporting an impressive frame he began his professional journey as a light heavyweight. His initial record, after debuting in Nottingham against Jamie Ambler on the 6th October 2007, was highly noticeable as he gathered the Commonwealth title on the `2th March 2010 against Atoli More in Liverpool on the 12th March 2010, defended it against Bob Ajisafe – where he got up of the canvass to retain it – in London in September of that year, and then against Ovill McKenzie twice where he stopped him in the 8th round, again in 2010 and again in Liverpool after having been floored twice.
Then came that Cleverly fight that he took on three days' notice, for the WBO title because Jurgen Braehmer had pulled out. A fiery press conference was the only conflict we saw because Bellew failed to make the wight and was replaced by Aleksv Kuziemski; the lack of a world title opportunity saw him take out his frustrations in another successful defence of his Commonwealth title against Ovill McKenzie – this time on points. This time though they added in the British title, so he was now both British and Commonwealth champion.
The fight with Cleverly for the WBO title was only postponed. The verbal exchanges as they prepared for their fight on the 15th October 2011 were just as fierce as they had been at their first press conference. Back in Liverpool, Bellew was to lose to Cleverly in a very tight majority decision.
It seemed to fester. At least publicly it did.
Now as a man who is totally at peace, I think it just made him increasingly determined to put things right and find in his training the determination to win but he was no fool; he also looked to correct and eradicate his mistakes.
The people who benefited from the newly energized Bellew, were the public who saw him take a now vacant British title against Danny McIntosh in April of 2012, by knockout in the 5th round and then stop Edison Miranda for the WBC international strap. His ability was shining through and whilst his temper was always close to the surface, the danger it spelled for his opponents was evident and made for a TV friendly fighter.
The road was being mapped through the WBC for some kind of title and for Bellew that meant beating Roberto Bolonti, in Nottingham in November 2012, for the WBC silver title and then two fights that almost consigned him to an observer at world level but became a turning point for him. He fought Isaac Chilemba twice. Once in a WBC title eliminator which he was expected to win – he drew. Then came the rematch and he took that on points. His first fight was all wrong tactically and rather than moan and groan he went back and put things right with a performance that was different enough from the first fight to prove he had an immense range.
Bellew was mandatory challenger for the WBC light heavyweight title.
Bellew made the weight. He made the journey to Quebec City, Canada to face Adonis Stevenson on the 28th September 2013. He returned empty handed as he was stopped for the first time in his career in the 6th round by Stevenson.
It was suggested that this was a lackluster performance. Bellew looked out of sorts and, worse still, out of his depth.
The time had come to move. Up in weight.
The WBO international title was his, in his first fight at that weight against Valery Brudov back home in Liverpool. He defended that title against Julio Cesar Dos Santos within 4 months in a 5th round stoppage.
Guess who else was now a cruiserweight?
Yep… Nathan Cleverly.
Bellew, now admitting that he had been "dead at that weight" when a light heavyweight he fought Cleverly, back at home, in Liverpool where Bellew won a split decision victory on the 22nd November 2014. After the fight in press interviews, Bellew claimed that this rivalry was all over, "I'm over the moon, listen it's over, it's put to bed. We said a lot of things. I don't like him now, but it's been settled tonight. It's over, it's done, and I've outworked a great athlete."
There was no trilogy. Cleverly went back down to light heavyweight and Bellew was left to progress onto his destiny.
The vacant EBU cruiserweight title followed in 2015, when he beat Mateusz Masternak on points on the Anthony Joshua, Dillian Whyte undercard at the 02 in London.
Then came the defining night for us all as on the 29th May 2016, at his spiritual home, Goodison Park, Liverpool, home of Everton Football Club who he had supported as a boy he became the WBC cruiserweight champion when he became the first man to beat Ilunga Makabu since Makuba's debut.
You cannot put into words what that meant to Bellew until you see his reaction. Afterwards he spoke of a terrible camp for the fight and then came the win. It was THE event of 2016 for me. Bellew now had a platform for himself which he used along with a couple of defenses to set up the two significant wins at heavyweight against David Haye and the heartbreak of losing to Oleksandr Usyk in his final fight.
These three fights made him financially, but the mixed-race kid from Toxteth is quite clearly far more than those three marquee fights. You have to get yourself into that position, make a career and impress the people who matter: fans and promoters. Bellew did that in spades.
But there was one more event that endeared the man to me and millions during lockdown. Joseph Parker and family may have the moves when it comes to making short lockdown musical film movies but Tony Bellew, father, has the best interaction with his kids EVER. In a video posted through YouTube he is trying not to negotiate with a couple of hungry kids who see him ready to do an interview and are after something as a treat. Believing that he may be vulnerable to giving in, they attempt to get into the family cookie jar. He is singularly not impressed and keeps his temper well but it is a tired human poised perfectly just to give in; he doesn't.
That fellow professional boxer, Shannon Courtenay then turned it into her own version was sheer genius but it shows how much boxing has become so much more than the brutal 12 rounds over 2/3 minutes each but is now a mainstream sport with much to offer. As a pundit too, Bellew has that gift and he keeps on giving.
Contact the Feature Writers