[AdSense-A]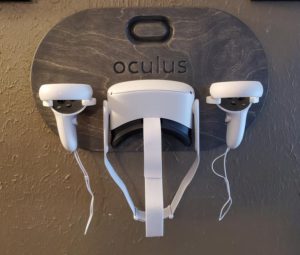 By Nikki Slusher
It's that special time of the year again where Karen's, Meredith's, Caleb's, and Ryan's all head to the stores for Black Friday specials. Since 2020 is not like other years, the Black Friday discounts have already begun. In honor of these early discounts, my fiancé and I decided to splurge on the latest virtual reality gaming system – the Oculus Quest 2. Described as the most all-in-one advanced VR system yet to exist, the Oculus is an experience unlike any other.
If you aren't familiar with the Oculus, it is a gaming console that consists of large white goggles and two hand remotes. The games are downloaded onto the device via the store and saved; similar to how you would download an app on a smartphone. There's a good variety of choices, from Epic Rollercoasters to Onward, which is similar to Call of Duty. With the Oculus Quest 2, however, you are literally inside the game.
Unlike other gaming consoles like the PlayStation 4 and Xbox One, the Oculus VR experience is significantly more exciting and intense. For instance, in Onward you can shoot your opponent, catch grenades, and basically become the character. You also have to make sure you are looking around at all times because unlike other consoles, you can't see what is coming up behind you.
My personal favorite game is Epic Rollercoasters. It comes with 18 different worlds to choose from and three different playing options: rider, or classic mode; shooter, which lets you shoot targets while riding; and racer, where you control the speed of the cart and see if you can beat other players times without flinging your cart off track. There's also different carts and passengers to ride with you that you can chose from. It is extremely visually pleasing, and you even feel like you are actually on the ride.
Another addition to the Oculus games is different VR hang out apps where you design your character and can meet with other players around the world. One app that I tried out is the Poker VR where you play poker with other Oculus users. Everyone's avatar looks like Lego people, and the casino looks like a Las Vegas strip hot spot. Neon lights, people yelling at each other, and drinking avatars – it's the same thing as real life minus the coronavirus.
After living a full weekend in a virtual realm, I have to give the Oculus Quest 2 a 9 out of 10. You get so wrapped up in the games that what seems like 15 minutes was in fact almost two hours. The only downside is the battery life, which dies quickly – maybe only a couple hours' worth of charge is held. This is probably largely due to the graphics the device uses and is only a minor inconvenience. Otherwise, the Oculus Quest 2 is the coolest game console I've ever played. It definitely has set the stage for the next generation of video games in ways that seemed only possible in the movies.
Who doesn't like a fake world that's fun, exhilarating, and COVID-19-less? Make the holidays great again this year. You can pick up your own Oculus Quest 2 at stores like Target, Wal-Mart, Best Buy, and other retail stores near you today.
Contact the Feature Writers