[AdSense-A]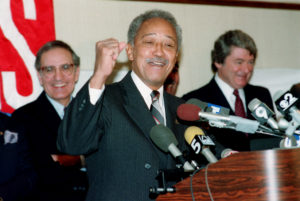 By Geoffrey Huchel
David Dinkins, NYC's first and only African American mayor died November 23, 2020, in New York City, he was 93. No cause of death was revealed.
David Norman Dinkins (born July 10, 1927), was an American politician, lawyer and author who served as Mayor of New York City from 1990 to 1993. Throughout his extraordinary life and career, Dinkins has accomplished so much, and for the purpose of this article, some of those accomplishments will be highlighted in this tribute.
Prior to his political career, Dinkins served in the Marine Corps from July 1945 through August 1946. Dinkins was among the Montford Point Marines awarded the Congressional Gold Medal by the United States Senate and House of Representatives.
He attended Trenton Central High School, graduating in 1945 in the top 10 percent of his class. He graduated cum laude from Howard University and received his law degree from Brooklyn Law School. He began his political career by serving the New York State Assembly in 1966, eventually advancing to Manhattan borough president before becoming mayor. Dinkins rose through the Democratic Party organization in Harlem and he dedicated much of his public life trying to improve race relations in the nation's largest city and was a major supporter for economic equality and education for people of color. He was a member of the "Gang of Four", also known as the Harlem Clubhouse- an informal group of influential American politicians, who later ascended to top political posts.
After leaving office, Dinkins joined the faculty of Columbia University School of International and Public Affairs as a professor of professional practice in 1994, and until his death, he was a full-time faculty member.
His memoir A Mayor's Life: Governing New York's Gorgeous Mosaic was co-authored with Peter Knobler, was published in 2013.
Ringside Report sends our condolences to David Dinkins' family in their time of grief.
Contact the Feature Writers