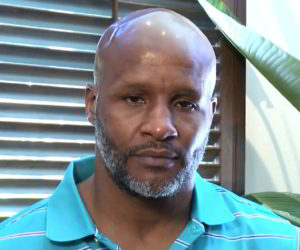 By Donald "Braveheart" Stewart
There is a lot of debate sparked around the WBC deciding that there needs to be a bridge division between the cruiserweights and the heavyweights as the difference in size between the Oleksandr Usyk's of this world and the giants of Anthony Joshua and Tyson Fury demands it. Former WBC champion Deontay Wilder has suggested this is a nonsense but quite a few are very much in favor.
The WBC have been at the forefront of new weight categories in the past, and, given that the likes of Anthony Joshua and Tyson Fury shall NEVER become multi weight world champions it is fitting that a business, dedicated to self-improvement should always question itself.
For some, like Michael Moorer, 52-4-1, 40 KO's, the former light heavyweight and heavyweight champion, all the talk is too late but it raises issues where he could have been competing not at two weight divisions but at four had he been active now.
As an amateur he had a relatively distinguished record but is as a professional that he made his biggest splash. Moorer began training at age 11. Encouraged as the grandson of a former professional fighter, he boxed as a southpaw, even though he was right handed!
At light middleweight Moorer became national champion in 1986 and as he was young, he had a lot more growing and developing to do. It is far from unusual, even as they appear to be in a man's body young fighters have still to grow into their natural fighting weight.
Even beyond their debut.
Even beyond their first world title!
Moorer fought for two decades professionally between the years 1988 and 2008, holding titles in light heavyweight and in heavyweight for the WBO, as well as being the unified champion at heavyweight in 1994 and then the IBF champion in 1996.
His debut at light heavyweight and was a first round knockout.
His rise was rapid and he was beating all in his pathway, leading nine months into his pro career to the biggest fight of his life. His development clearly had a companion in the shape of the World Boxing Organisation, which was created in the year Moorer made his own professional debut. It was looking for people to fight for and therefore legitimize their organization.
Moorer was perfect.
Ramzi Hassan was in the other corner when the very first WBO light heavyweight title was on the line. Moorer won by stoppage in the 5th round in Brook Park and then went on to defend that title no less than 9times against the likes of Victor Claudio – 2nd round stoppage, Frankie Swindell – 6th round stoppage, Freddie Delgado – 1st round knockout, Leslie Stewart, 8th round stoppage, Jeff Thompson – 1st round knockout, Mike Sedillo – 6th round knockout, Marcellus Allen – who retired in the 9th, Mario Mela – first round knockout, Jim MacDonald – 3rd round stoppage and Danny Stonewalker – stoppage in the 8th round.
It was quite clear he had awesome power and by now the frame in which he was carrying it was struggling. But straight to heavyweight?
The cruiserweight division had been there since 1979, created by the WBC so it had traction, people were fighting at that category but Moorer went up beyond that to heavyweight.
Now many people have come up from cruiserweight, Evander Holyfield, David Haye and the likes and been successful. Little guys have beaten bigger guys – especially little guys with power. In the UK we are currently witnessing the sensation of Alen The Savage Babic, a Croatian fighter who has blasted everyone out who has fought him although he is a small guy. The debate has raged about whether he is too small as a heavyweight for the bigger and heavier people in the division.
When asked what he thought live on Sky Sports, the former trainer of David Haye, Adam Booth responded, "It's not about size, it's about ability."
Michael Moorer proved he had that ability by going up to heavyweight and being the same beast he had been in the light heavyweight division. Once again, he went through the WBO to gain their heavyweight title in 1992 against Bert Cooper – 5th round stoppage!
This time he did not defend it. The WBA was not well known and Moorer vacated. At the time, much like the IBO now, the WBO were seen as a lesser organisation to the bigger ones. Moorer chased the bigger entities.
On April the 22nd 1994, at Caesar's Palace, Las Vegas, he took the lineal, IBF and WBA titles off Evander Holyfield, a former cruiserweight in a points win that made him the first ever southpaw champion – not bad for a right hander! Speaking later on to Ring Magazine, he commented, "That was the proudest (moment of my career) because so many more people saw that than when I fought Bert Cooper. There was so many people there. He was the lineal champion."
He lost the titles to Holyfield later on but did come back to regain a world title with the IBF. It showed that movement around the weight categories is possible, even preferable to maintaining a tradition we should always seek to question. For the bigger guys multi weight opportunities are far and few between so perhaps this is a part of the alphabet soup that is right for the sport.
Whilst there are detractors and people who are traditionalists who will roll their eyes and fight against tradition, the likelihood is that the opportunities to be world champion will be too much to resist for the fighters… And if we get another Michael Moorer…
Contact the Feature Writers