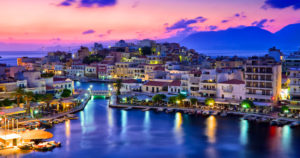 By Radical Rhymes
When I was on the verge of turning twenty, I agreed – against my better judgement – to go on a 'lad's holiday' with four of my friends. We were all part of the same cricket team and we'd just had a very successful season. For the third year in a row we'd been promoted. Why not celebrate with a trip to Crete? Such was the opinion of the group.
So, I scrimped and saved the money I earned from my job in the civil service to pay for said adventure. At first it seemed like a great idea. Sun, sea, surf and alcohol. What could go wrong?
I may well return to this holiday again, because so many things happened, it was literally an anecdotal treasure trove, but I will limit myself here to one of the paid trips we signed up for.
Jake. He was the one, he decided that visiting a traditional taverna up in the hills would be a great idea.
As I recall, none of us really wanted to go, but he made it seem like an opportunity not to be missed. We would sample real Greek culture, have stories to share with our kids, how could we turn that down? Eventually, we all agreed to go. Looking back, I wonder if he was on some sort of commission…
Anyway, we gathered at the appointed place at the appointed time, grumbling about the delay to dinner and the state of the coach. As we filtered onto the thing, the Rep kicked things off with the news that if anyone threw up on the trip there would be a substantial fine. Okay, no drinking. Great.
I think the driver was a graduate from the Bob Newhart bus driving academy. He set off like a formula one reject and kept his foot to the floor the entire way. Well, not the WHOLE way. Fifteen minutes in we were pulled over for speeding.
As the cop handed him the ticket the driver's expression went from stormy to thunderous and the only impact it made was to make him go even faster. He fired that thing up the narrow winding roads up the mountain side with such carefree abandon that several passengers actually climbed under their seats. At one point the front of the coach disappeared over a sheer drop and Joe, who was sitting beside me, literally shrieked.
We passed village after scenic village with no sign of stopping.
I remember how Jake sold it to us, reading from the brochure in our hotel lobby. We would be sitting outside the cosy taverna, all lit by candles, gazing out over the sea while waiters brought us premium Greek food and Greek dancers entertained us long into the early hours.
The first inkling that I had that the evening wouldn't pan out that way was the coach park we pulled into. It was huge and there were already several coaches parked up. Nate gave Jake the eye as we filed off the bus into the cool evening air. 'Awesome, we're here!' enthused the Rep.
And then we saw the taverna. It was essentially an aircraft hangar with the longest queue I'd seen outside a theme park.
'Come on lads, this is going to be brilliant!' Jake said.
'Is it, Jake?' Adrian asked him, with the same amount of venom we were all feeling.
It took twenty-five minutes to reach the door, where each of us were grabbed and photographed with a blonde guy in Greek clothes who, we were reliably informed, was the best dancer in Crete. Inside the hangar there was row upon row of bench tables and actual benches fading into the distance, and we had to stand there like prunes while Rep studied the seating plan in a growing state of panic.
It turned out that we were meant to be somewhere in the middle of the cavernous building, and so we clambered over hundreds of people, stepping on toes, stumbling over legs, apologising profusely, until we arrived out or designated table.
Now, I have been a vegetarian for some time, but at that stage I was still a committed meat eater. I'd effectively been living off pizzas and Moussaka for over a week, because I hated all forms of fish, most seafood, and eating whole tomatoes.
We settled in and tried to get to know some of our fellow trippers, but before we could really strike up any meaningful conversations, the music started. Not long after that the dancing began, and any hope of friendly discourse went out of the window.
Cold. Sober. Stunned into silence by the loud music, it was not going as advertised.
Then the starters arrived. Huge, and I mean gargantuan tomatoes, all filed with various forms of sea life. I honestly felt like crying. Seeing my crestfallen expression, Joe consoled me with the bellowed: 'I'm sure the main course will be okay!' I nodded, stole two bread rolls and waited patiently for the starters to be consumed.
All the while the music and screamed attempts at dialogue were sending me into a stupor.
Eventually the main courses were delivered. Whole. Red. Snappers. I was in hell. Jake refused to catch my eye as I tried to steal more of the uneaten bread rolls. Having drunk enough water to float a battleship, and given the freezing conditions, I soon needed to pee. But the thought of fighting my way out, finding the toilets, and successfully locating our table again, meant that I crossed my legs and hoped for death.
Just when I thought nothing could make the evening any worse, there was a terrible ear-splitting grinding and screeching, and like the parting of the Red Sea, the roof began to open. If that hangar had been cold before, it quickly went to sub-zero. It was hard to see through the fog of the collective breathing.
And the dessert? Ice cream.
I loved Crete, it was an absolute delight, but that was not only one of the worst trips of my life, but quite possibly one of the worst evenings I've ever had to endure. The only silver lining was that our bus driver was going to get us back to Malia at breakneck speed. Thankfully, in that at least, he didn't disappoint…
Radical Rhymes is a professional artist working with a range of media – predominantly animal/human portraits and landscapes – including, most recently, hand painted furniture. You can see his work on Instagram Radicalrhymes1969 or on Twitter @RhymesRadical.
For commissions, please contact him on Twitter via Direct Message or by email at: radicalrhymes@outlook.com His work is also available to buy on Etsy
Contact the Feature Writers