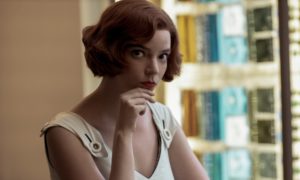 By Janet Grace
November 3rd found me on Netflix watching this drama mini series, while checking out the scores on who would be winning the final series of Earth 2020, as many memes sarcastically portray.
At first, I thought it was the most boring series I'd ever seen. I turned it off, ready to say: 'no way'. The following day, I read reviews posted by friends on how much they enjoyed this show and how I should give it a second chance, so I did. I truly enjoyed it.
The adaptation of a novel written by Walter Tevis; The Queen's Gambit, is set during the Cold War in an orphanage where a pre adolescent, Beth Harmon, a cryptic thinker with a strong will of her own, goes to live after her mother's death. She finds comfort in the unlikeliest of places: a chessboard.
During a time when children were tranquillized to keep them in line, it had me pondering just how many generations have used drugs to quell children's nutritional, physical, emotional needs. What developed for Miss Harmon was an early attachment and addiction to outside sources, i.e., drugs, alcohol, believed to fuel the genius that already lived within. Can she achieve her goal without them? Can we?
The story continues to show you that it doesn't matter what era, age, gender or race a person is in or from. When they've got something to say, they'll say it. When they've got something to do they'll do it, transcending any; and all, unspoken rules of whom it is they're supposed to be. This truth; reality, dream is available for the taking to those who dare to pursue it. The character in the story is someone alive within each of us regardless of genetics or mental capacity. Brilliance; genius; intelligence; lives within every single one of us, whether we choose to accept it or not is a different matter altogether.
I give this movie five stars, and invite you all to step away from "what is", and venture to a time when less was possible and more was created.
IMDb rated this an 8.8/10. Rotten Tomatoes gave it a 10.
Created by Allen Scott and Scott Frank.
Directed by Scott Frank
Cast:
Anya Taylor-Joy is a 24 year old American-Argentine British Actress known for her work in Peaky Blinders, The Miniaturist, The Dark Crystal, Atlantis, Split, Witch and Emma, to name a few. Cast as the hero, Beth Harmon, she gives her era a run for its money leaving us clapping. We need this NOW.
Moses Ingram is an Actor-Writer known for her work on The Tragedy of Macbeth, Macbeth, Day 24, The Queens Gambit, Sis and Candace. She won my heart through her scene-stealing portrayal of Jolene, a teenaged orphan who tried her best to guide the wayward Beth, while they existed within the confines of the orphanage.
Marielle Heller is an American Writer, Director and Actress who portrays the domestically, psychologically abused Mrs. Alma Wheatley, whose journey with Beth takes a turn which surprises them both. She's known for her work as the director of The Diary of a Teenaged Girl, Can You Forgive me? and A Beautiful Day in the Neighborhood.
Thomas Brody-Sangster is an English Actor cast as the wise, yet egotistical Benny Watts, a chess champion whose only goal with Miss Harmon is to assist her in perfecting her game … or is it? No acting neophyte, Mr. Brody-Sangster is well known for his prior works in Nanny McPhee, Phineas and Ferb, Game of Thrones, Maze Runner and The Queen's Gambit.
Henry Melling is an English Actor. He looks so familiar because we saw him grow up as the ever humorous, Dudley Dursey, in the Harry Potter films. Other film credits include The War of The Worlds, Just William, The Ballad of Buster Scruggs, Garrow's Law and this year's The Devil All The Time.
Cast as Harry Beltik, he truly cares for his chess mates; counting Beth, regardless of her gender, in what seems to be a man's world.
Twins Matthew and Russell Dennis Lewis are New York Native actors.
Cast as Matt and Mike; chess scholars, who genuinely give Miss Harmon the benefit of the doubt, and rightfully so.
Matthew, is an Actor, Writer, Producer known for his work in Godless, Burning Shadow, The Burning Shadow, Blue Bloods, and The Queen's Gambit to name a few.
Russell is an actor, stuntman, TV personality known for his work in Godless, Real Heros, Blood Night, Midway and The Queen's Gambit.
I welcome your comments and respond to all.
It's truly an honor to be part of the RSR team. The writers behind the RSR articles, besides being brilliant writers are stars of their own making: courageous, authentic, true and kind. They'll shine a light into their hearts and minds through their work. I invite you to read them. You'll understand once you do.
If you love to read, write and have something to share with the world, I invite you to contact @badbradRSR via DM with your professional intro, resume, article.
It has been 23 days since the election count began on November 3rd, 2020. POTUS has yet to concede although the race was called in Joe Biden's favor four days later. I; for one, am adopting our President-Elect's suave demeanor. Let POTUS do what he will. It will amount to naught. If he is not gone by January 20th, he'll be handing over the reigns to his favorite person in the entire world, Speaker Pelosi, who will have him booted out of the state so fast, he won't know how the hell he ended up at The Hague. Oh, yeah. It makes me chuckle just to think about it.
Get your Ray-Ban's on and say it with me: His ass is grass and The Resistance is a John Deere ride on power mower. Vrrrrroooom, MF, yerrrrrout!
Type to you next week. See you on Twitter. Love you all.
Blessed be, )O(
JG 😀
Contact the Feature Writers