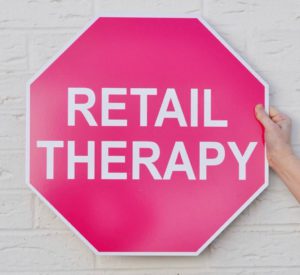 By Jo-Ann "Jo D NL" Duke
My question is this: Is retail therapy real? To me, retail therapy is the practice of shopping to feel better when a person is feeling overwhelmed by stress, loss or grief. The idea of this practice is that shopping will improve the buyer's mood, making them feel better, even if only temporarily; that it will take away whatever is causing them to feel stressed or upset at that time.
While normally the practice is short-lived for most people, sometimes if a person is going through a particularly bad period of their lives, it can become a way to make themselves feel better, if only for a moment, hopefully.
However, if this continues for many months, if not even longer; it can lead to other issues, particularly financial, as they are sometimes using money they don't have, to get that short feeling of exhilaration from getting that great but perhaps unnecessary purchase.
This might sound strange to some people, but not everyone has time or the funds necessary to see a registered psychologist or psychiatrist. Another reason for this choice is that the people who are using retail therapy rationalize that they are doing something good for themselves.
They look at it this way, that it is an instant way for them to feel better; plus they can do it whenever without having to schedule an appointment with a stranger, and have to tell someone everything they are feeling or going through.
It seems that sometimes when a person is suffering grief due to losing a loved one, that the practice of retail therapy becomes almost second nature to them, and many people don't see the problem of their behavior until they have spent a huge amount of money.
Truthfully, they may not even realize how much they have been buying, until they get the credit card bill, or see how low their bank account balances have become. Hopefully, it is a situation that they can pull themselves back from very quickly.
This may happen once they can see what may have gotten themselves into, before it becomes something that really impacts their lives, especially those of their family. Now, I am not saying that an occasional purchase is bad, but people need to keep an eye on what they are doing with buying items all the time.
Ironically nowadays, people are being encouraged to shop online, with the Covid crisis, and perhaps people may not realize just how much they are spending; that is, if they can afford to do so after the past eight months or so during the Covid lockdowns.
Could we ask for a more stressful situation that might drive a person to want to do a little shopping to feel better, if only for a moment. Now, I am not a psychologist, but I do believe that this is indeed real, having seen friends go through it after suffering losses in their families; honestly, I myself have done so during stressful times in my own life.
I can remember hearing everyone joking about going for a retail therapy session, and most likely, most everyone else can as well; it is something that I believe is much more widespread than people think.
Think about it, if shopping was a hobby or habit they did with the person who passed, they might even do it to try and hold onto those memories from all the days spent together.
It might seem to be letting them feel like they did during those days before they lost the person; and try to keep things the same, before having to face the pain of the loss and grief they are feeling.
So yes, I believe that retail therapy is real, and a form of therapy practiced by many people, it can be good as long as it is one in moderation. Please let me know what you think of this, and if you agree or disagree with my thoughts on this subject.
All constructive criticism and feedback is appreciated. Have a great day, take care of yourself, and stay safe during this time.
Contact the Feature Writers