[AdSense-A]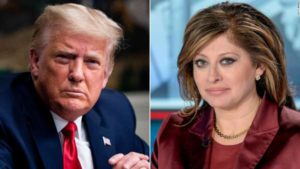 By Nikki Slusher
This week's Sunday Funday edition of post-election Trump meltdowns is going to be one for the books. In an interview with Fox News' Maria Bartiromo, the soon-to-be former president gave his first post-election TV interview. It wasn't as bad as most of us had anticipated. It was much worse.
It included the usual talking points we hear from the president: "Think of what we've done, and nobody's done it like this…We're doing better than Europe." He went on to take credit for the Covid-19 vaccines that will soon be available to some of the public.
"I came up with vaccines that people didn't think we'd have for five years," the president said. However, it was actually the pharmaceutical companies – Pfizer, Moderna, AstraZeneca and Novavax — who created the vaccines. Although the administration's "Operation Warp Speed" did fund some companies' research, development and eventual distribution of the vaccine, not all of the companies with successful vaccines — including Pfizer — did not participate in the Trump administration's program.
President Trump continued on to slam the judges' who have rejected his lawsuits on the 2020 election results. The president even admitted that he couldn't be certain any of his cases would go before the Supreme Court. "We're not allowed to put in our proof. They say you don't have standing," the president told 'Sunday Morning Features.' He added, "I would like to file one nice big, beautiful lawsuit talking about this and many other things, with tremendous proof. We have affidavits, we have hundreds and hundreds of affidavits." Apparently, this week the president is learning adjectives in his grammar class.
Unfortunately, it seems that his government class is going poorly. Trump seems to have little to no grasp on how the governmental system works. At one-point Trump said the Supreme Court needs to be "willing to make a real big decision." Continuing on with the false stolen election narrative, Trump told Bartiromo "We had glitches where they moved thousands of votes from my account to Biden's account." The president continued to attack mail-in voting and falsely stated that "dead people were applying to get a ballot" with some who were "dead 10 years, 15 years and they actually made application."
It was the president's final comments regarding election fraud claims that stole the entire show. Trump carried on raging by suggesting that the FBI and Department of Justice were possibly involved and allowed the fraud to occur in order to help aid President-elect Biden to secure his win. "This is total fraud, and how the FBI and Department of Justice, I don't know, maybe they're involved but how people are allowed to get away with this stuff is unbelievable. This election was rigged. This election was a total fraud, and it continues to be as they hide and the problem we have — we go to the judges, and people don't want to get involved. The media doesn't even want to cover it." Finishing up he complimented Bartiromo as being "brave" for talking about it.
While we must mourn the end of Bartiromo's 25-year career, we have been blessed with the most outrageous conspiracy theory to ever come out of Trump's mouth. Now the FBI and his BFF-turned-AG William Barr's justice department were both apart of rigging the 2020 presidential election in favor of Joe Biden. Trump's beef with Barr partially stems from the AG's refusal to investigate and indict officials from the Obama administration, including the former President and VP now President-elect prior to the Nov. 3rd election.
This is just the next part of the script we all know too well. The FBI is, again, conspiring against the President but instead of James Comey it is now William Barr as the leading role for Trump to target. What may be more surprising is that was this the favor that was too far even for Barr? After everything else that has happened, it was only fake voter fraud claims that set the Barr too low even for the AG.
Contact the Feature Writers