[AdSense-A]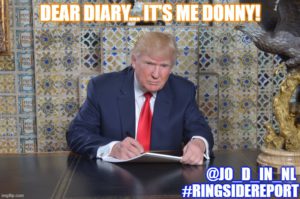 By Jo-Ann "Jo D NL" Duke
The continuing diary scribblings of T4: Temper Tantrum Toddler Trump
Dear Diary,
Hey, big guy, hi, it's me Donny. Sorry, it's been a few days since I had a chance to talk to you. I have been so busy proving to everyone how the election was stolen from me.
I am so upset, because people are being so mean to me; they aren't helping me anymore. It's like they don't want to do it anymore, because they are all turning on me.
Imagine it, Freddy said that there was no proof of election fraud; how could he betray me like this, after all I have done for him; if it wasn't for me, no one would even know who he was.
What an awful ingrate he is with how he is treating me; I think that I should show him how mad and hurt I am feeling, by getting rid of him and let him see how he likes it when people are being mean to him.
Hah, let's see how he likes that, I bet he would see how I feel; but some of the people in that office are saying that I should not do that. Some of the people are trying to convince me that I lost and that I have to admit it.
That's never going to happen, because I don't like to lose so I didn't, hear that, Sleepy Joe. I won, not you. You are never going to convince me otherwise; you are never going to be doing my job.
You could never do it like me; not you or anyone else could do it, definitely not the way I did. All of you are so jealous of me, and you are trying to rob this election, and make me look like a loser.
I am the winner, I was, still am, and will be forever. They are never going to prove to me that I lost, as if that could ever happen. Imagine them thinking that anyone would believe that Sleepy Joe could ever beat me.
Like any smart person like me would ever think that could be true; especially by that many votes, like he could ever get 80 million votes, even more than what Obama got, like that could ever happen.
Well, thanks buddy, I feel so much better talking to you; with you, I can get all this stuff out and not have to think about it anymore.
Bye for now, talk to you again later, love you lots.
Donny
Contact the Feature Writers