[AdSense-A]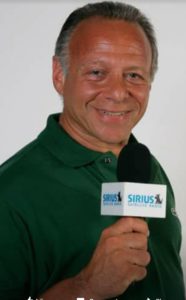 By Randy "The Commish" Gordon
In the nearly 12 years Gerry Cooney and I have been doing our SiriusXM show—"At the Fights" (also known as "Cooney & The Commish")—we have received countless letters, e-mails, texts, tweets and Instagram messages asking us an array of questions. Many of those questions have been of the "Who do you think would have won between…" One of those letters a few weeks ago asked "Who do you think was the best Middleweight Champion
Of all time?" The question gave birth to our show's first "Fantasy Dream Middleweight Tournament."
We call it that because it is a Fantasy. It is a Dream. The best of different eras can only face each other inside our minds. Yet, this only happens in boxing. We don't ask each other, "I wonder how Jack Nicklaus would do in a one-on-one against Dustin Johnson?" We don't ask "Who would have won between "Billie Jean King and Serena Williams?" We never ponder how a Michael Jordan-led team would have fared against a LeBron James-led squad. But boxing? That's different. Especially with the greats, the legends.
With that, our "Fantasy Dream Middleweight Tournament" was born. Cooney and I sat down—maskless (on Zoom)—with the Producer of our show—Andre Viola—and discussed such a tournament. Who should be in it? Do we include every man who has held even a trinket middleweight title belt? Do we simply choose eight of the best middleweights (according to us!), then randomly match them in the quarter-finals? After a productive Zoom meeting—during which time we discovered there have been at least 130 men who have held some form of middleweight title belt—we elected to choose 52 of the best names. We then put the names into a computer program which then chose them—not by era, not by record, not by reputation—but randomly.
As we needed to reduce the field from 52 to 32—(so we could then move from 32 to 16; to the quarter-final round of 8; to the semi-final round of 4; and the tournament championship match)—we had to cut 20 middleweights. That meant 20 fights would be made by computer draw. Twelve fighters would not be chosen, and would fight in the next round. Among the 20 fights, there would obviously be 20 winners. They would stay and fight on. The 20 losers would watch from their Fantasy Dream ringside seats.
A panel of historians was chosen. They are as much a Dream panel as the Dream fights are. The exception is, unlike the fights in this tournament, the panelists are very real. There are seven.
They are:
Enrique Encinosa
Lee Groves
Henry Hascup
Ron Lipton
Frank Lotierzo
James Smith
Ryan Songalia
Encinosa is not only the foremost authority on Cuban boxers from all eras, but a noted historian, as well. He is the author of several books about the rich history of boxing in Cuban.
Lee Groves is a writer for The Ring and another noted historian. He is the co-author of the book "Ali by the Numbers," which was published in 2018.
Henry Hascup is the founder and President of the New Jersey Boxing Hall of Fame and President of the New Jersey Diamond Gloves competition. He is a Board Member of Ring 8 and regarded by many as boxing's top historian. At press time, Henry and his lovely wife, Joyce, were both battling COVID, and recovering. We wish them a full and speedy recovery.
Ron Lipton is one of the premier referees in the world. He is also a top historian who can speak as easily about Benny Leonard, Bearcat Wright and Marvin Hart as he can about Sugar Ray Leonard, Winky Wright and Cyclone Hart. He is currently at work writing his third Fantasy Match for Ring Magazine.
Frank Lotierzo is a longtime columnist for "NYFights," "The Sweet Science," "Boxing Scene" and many other boxing sites and magazines. His pre-fight and post-fight breakdown and analysis of major bouts is second to nobody.
James "Smitty" Smith is a boxing announcer and talk show host. His show, "In This Corner" can be seen on FiteTV.com. It is the longest-running boxing show in the sport. He is also the Master of Ceremony for many of boxing's biggest award dinners, including the prestigious International Boxing Hall of Fame Banquet, held yearly during the second weekend of June.
Ryan Songolia is a feature writer/columnist for The Ring. He is also a reporter at the magazine's website, Ringtv.com. He is, like the other panelists, regarded as a top historian on Fistiana.
The Field of 16 were seeded. Their opponents were chosen randomly. The matchups looked like this:
Carlos Monzon Vs Tony Zale
James Toney Vs Mickey Walker
Sugar Ray Robinson Vs Emile Griffith
Stanley Ketchel Vs Bernard Hopkins
Roy Jones, JR. Vs Nino Benvenuti
Marvin Hagler Vs Jake LaMotta
Harry Greb Vs Rodrigo Valdez
Marcel Cerdan Vs Dick Tiger
A few of them, like Sugar Ray Robinson, Dick Tiger, Marvin Hagler, Mickey Walker, Emile Griffith and Roy Jones, JR., all saw action in the first round of fighting, as the field was whittled from 32 to 16.
In those bouts, which were all scheduled for 15 rounds:
Tiger won a close but unanimous 15-round decision over Jermall Charlo. The scores were 143-142 and 144-141 (twice).
Robinson outpointed Danny Jacobs, 147-138. Jacobs was on the deck from a left hook in the 10th round.
Griffith outscored Tommy Ryan by identical scores of 148-137.
Jones, JR. stopped Vito Antuofermo on cuts in the 5th round.
Hagler TKO'd Randy Turpin in the 9th round, dropping him once in the 2nd, once in the 5th and twice more in the 9th and final round.
Walker stopped Rocky Graziano in a come-from-behind knockout in the 12th round.
The tournament has advanced. We are headed into the Quarter-Finals. In the next few days, the four matchups will be announced. When the panelists make their choices, I will "call" all the exciting action, with Gerry Cooney providing the color.
It's only a Fantasy Dream Tournament.
But what if it were real?
What a Fantasy Dream that would be!
We can be heard every Monday & Friday on SiriusXM, channel 156, from 6-8pm (ET).
Randy "The Commish" Gordon is the Author of the hit book, "Glove Affair". Order your copy by clicking HERE.
Contact the Feature Writers