[AdSense-A]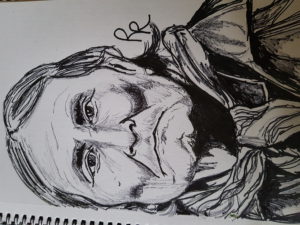 By Radical Rhymes
Stop the fighting and the grief,
There's something more in your belief.
The drama and the pointless factions,
They'll leave you sore without retractions.
Save your rage for something real,
Injustice is a turning wheel.
Cold and hunger are endemic,
We're living through a true pandemic.
Homelessness sits beside huge greed,
Billionaires spread their soiled seed.
Those things need more of our attention,
So many more I cannot mention.
Save your rage and spend it wisely,
Unfairness? Yes, that's right, precisely.
What we need is indignation,
That can be more than salvation.
So, rage and rage and rage again,
But maybe know at who and when…
Radical Rhymes is a professional artist working with a range of media – predominantly animal/human portraits and landscapes – including, most recently, hand painted furniture. You can see his work on Instagram Radicalrhymes1969 or on Twitter @RhymesRadical.
For commissions, please contact him on Twitter via Direct Message or by email at: radicalrhymes@outlook.com His work is also available to buy on Etsy
Contact the Feature Writers