[AdSense-A]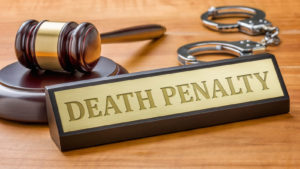 By Nikki Slusher
Pro- and anti- death penalty debates have become a primary discussion in the United States as the Trump Administration scheduled more federal executions before President-elect Joe Biden's January 20th inauguration. Key parts of the debate include disputes over how many executions have occurred under President Trump's first and only term. It is also the first time in 130 years that we have had a federal execution occur during the lame-duck period of a presidency; it is yet another tradition broken by Trump during the transition.
President Trump's final days have seen a rush of federal executions. From last Thursday until the days leading up to Biden's inauguration, the president has scheduled a total of five additional federal executions to take place.
In fact, with the completion of the back-to-back executions this week of Brandon Bernard and Alfred Bourgeois, the total is now at 10 federal inmates executed this year, with a total of 13 federal executions since July. We haven't executed 10 or more prisoners at the federal level since 1896. The decision to rush these executions with Trump's push to also bring back other methods of capital punishment – like the gas chamber, electric chair and firing squad – are in a piece of legislation the president is trying to get through before he leaves the White House. It will mark Trump as one of the most prolific execution presidents we have seen since President Cleveland.
There is no disputing that the crimes committed by those on death row are gruesome and heinous, but there are multiple factors that have helped push the anti-death penalty movement. More than 160 individuals who have been sentenced to death have been exonerated in the US since 1973. Furthermore, research on its influences on deterring citizens from committing such crimes found that it has little to no effect. It's also expensive; to put someone to death costs around 18 times the amount of paying for an inmate with life in prison without parole.
Brandon Bernard's execution on Thursday drew outcry from many, including Kim Kardashian West who was a dominant figure in the efforts to have Bernard's sentence to be commuted to life in prison without parole. Bernard's execution set a new precedent due to his age and role in the murder he was convicted for. At 18, Bernard participated in the kidnapping, robbery, and murder of a young missionary couple in Texas. He was tried as an accomplice because he had set fire to the car after another man in the group had shot the couple in the head. Bernard had no behavioral issues and became deeply involved in religion during his time behind bars.
Alfred Bourgeois is the 10th person to have their death penalty sentence completed out in 2020. His legal team argued that he had an intellectual disability therefore disqualifying his eligibility for lethal injection. Bourgeois' IQ was 70 when the legal cut-off is 71. SCOTUS denied his appeal on the basis that there was not enough evidence that supported his claims of how this impaired his cognitive abilities. Bourgeois tortured, sexually assaulted, and murdered his two-year-old daughter in 2002 on the military base in Corpus Christie. His actions leading up to and after the crime reflect an individual who premeditated and carried out the brutal acts with complete awareness.
Experts in the criminal justice field have commented on Trump's "breathtaking" effort to put prisoners to death does not reflect an increase in support for capital punishment. Actually, more Americans oppose the death penalty now than at any point in almost fifty years ago. While a majority of Americans still support capital punishment for the most violent of offenders, but at 55 percent it is at the lowest point since 1972.
Support isn't the only decline, the amount of death sentences that are carried out have also dropped significantly. Only three federal executions were conducted between 1988 and 2019 under both Republican and Democrat administrations. Over that same time span 25 states and D.C. placed a moratorium on carrying out death sentences. This stemmed from issues widely documented on the combination of drugs used during lethal injections. Previous executions had inmates who reacted poorly to the medications leading to body spasms, seizures, and a variety of other side effects.
This also played a factor into the hold on federal executions for the last 17 years. It wasn't until Trump's current AG William Barr reinstated the scheduling of federal executions. Out of the 25 states that still use capital punishment, less than two percent of the jurisdictions account for over half of the death sentences and executions. The DPIC's 2019 annual report showed that 22 prisoners were executed across seven states. State level executions have seen a significant decrease in participation as well with numbers drastically smaller than the 98 executions in 1999.
Since the start of this election season, President-elect Joe Biden and VP Kamala Harris have been strong proponents for abolishing the death penalty. VP Harris has been a strong opponent of capital punishment. While she was a prosecutor, Harris rarely invoked the death penalty even on a defendant who had killed a police officer. She had received backlash for this decision from law enforcement and the public. It is more than likely that the Biden administration will stop federal executions, but not before two black men and the first woman in six decades are executed.
Contact the Feature Writers