[AdSense-A]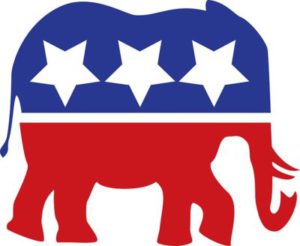 By Donald "Braveheart" Stewart
As I sit in my Kailyard I wonder often about the future.
The future is to come after a pandemic so could it possibly be worse than where we are just now?
Strangely given my own political views perhaps, it is the future for the Republican Party after Donald J. Trump, in about a month, has vacated the White House that concerns me. It is important because for democracy to thrive and survive governments need an effective opposition.
The way in which the Grand Old Party have schismed and flopped over their President has been nothing short of embarrassing. From over here it looks less like a Grande Old Dame and more like a pathetic old person unable to decide what is right from wrong.
You could say that Trump has molded it into his own image.
Once President-elect Joe Biden is in place, the Republican Party and their members has to deal with what has been done with the party they volunteered for, they support, and they hold in high esteem.
For me there are three key things they need to resolve quickly…
1 What was it?
Was this the Republican Party at its best or was it hijacked?
In short, the party needs to own what he did or distance itself. As a President sitting in the White House, he wields tremendous influence that can stop people from trying to make him out to be the worst in living memory. People depend upon his grace and fall before his favour. That power will dissipate in January – what will the response be from the GOP?
2 If not him then who?
Trump has already strongly hinted that he may run again in 2024.
Learn from the mistakes of your rivals. Joe Biden emerged from the melee of democratic hustings as the most likely to win and not the one most favored. It would make better sense to plan who will run in 2024 for the Republicans and try to build a moral consensus around them. Even if it were a faction of people, almost like the Tea Party people, it would make sense to strike boldly and make a clear difference between you and Trump, and also you and Biden.
3 Ditch the periphery
The Alt-right are not a long term advantage.
Get rid of conspiracies, hints, suggestions and lies and adopt inclusive policies that tell the Proud Boys and their ilk that THIS is a new dawn. It may sound like a liberal telling the conservatives to ditch conservatism, but mainstream conservatism is not about race and not about privilege but about opportunity. The Alt-right are not about opportunity. I may be a liberal now, but I was once in a Conservative Party. I saw what leaning too far to one side meant – the way back got broken and you were hijacked by unsavory elements. The Republican Party is not there yet but in danger of losing their way. I hope they lose in 2024 but hope it is a far more productive election than the last two slogan battering embarrassments.
Overall, though no fan of the Republican movement nor of the conservative agenda, I am in favor of democracy. For it to thrive again it needs debate and engagement. The ideas with which I disagree require a better leader and champion and I look on with interest as to what people who have thrown their morals and their belief systems to the dumpster shall do next.
A view from the new Kailyard or, how you look over there, from over here…
(kailyard n. a genre of sentimental Scottish literature turned into effective invective comment from one Donald worth reading…)
Contact the Feature Writers