[AdSense-A]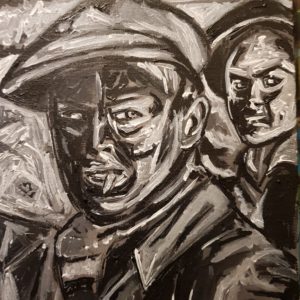 By Radical Rhymes
This is for the doubters, the deniers and those people still refusing to take the Covid virus seriously…
It started with a terrible aching on the right side of my face, and a strange tingling at the back of my tongue – the kind I recall from my childhood after eating that popping candy, space dust was it? I'm not certain. Anyway, it impacted on my taste buds and I did wonder then whether I might have it.
But the aching passed, the taste buds reignited, and I reassured myself that it was just in my head, psychosomatic. I was like the protagonist from Three Men in a Boat, imagining the worst from a position of anxiety.
Then, about a week later, my youngest son's girlfriend tested positive. Someone in her class at school had kindly passed it on to her. Two more cases followed, one as a result of a parent sending a child even though their sibling was positive. I felt insanely angry.
Predictably, my youngest developed symptoms. He is fifteen years old, virtually a professional athlete and the fittest person I've ever known, and the virus floored him. He tested positive and so did the rest of my family.
And then the symptoms hit me. Intense internal heat, like Greek fire that simply wouldn't be extinguished. I couldn't stop shivering, every inch of me was frozen and yet also ablaze. I went to bed and slept for hours straight and woke in a pool of sweat. I couldn't think of eating and it was as much as I could do to take on a basic amount of fluid.
I was delirious at times. I woke one morning and painted a picture of Welsh Miners I'd been meaning to do for a while. Afterwards I barely recall doing it. It was like a dream. I forced myself to paint through a bitter fog.
And after days of this I started coughing. A dry, tickly cough that seemed to have no trigger or form of its own. It was annoying, wearisome. Seemingly endless. On Christmas morning the dizziness hit me hard. I almost passed out as I tried to stand, the day was pleasant, but we were all going through the motions.
It's been weeks now and still the tiredness is profound. I haven't been able to exercise or work properly. I find down time difficult, so I've done bits and pieces but nothing major. The energy and will just aren't there.
We have all been roundly knocked about by this virus, but given its dreadful toll on people around the world, I am truly thankful that we are all okay. We've come through it. We are lucky.
So, please, for me, wear a mask. Don't gather in huge groups. Respect this virus because it is a killer. It is real. It has a cost even for the lucky ones. Go into the New year with hope and caution. And, this is the most serious plea I can make, stop voting for Right Wing governments. They don't care whether you live or die, they only live for profit. Please, I beg you, don't let them benefit from your hardships anymore.
It's time for a new dawn…
Radical Rhymes is a professional artist working with a range of media – predominantly animal/human portraits and landscapes – including, most recently, hand painted furniture. You can see his work on Instagram Radicalrhymes1969 or on Twitter @RhymesRadical.
For commissions, please contact him on Twitter via Direct Message or by email at: radicalrhymes@outlook.com His work is also available to buy on Etsy
Contact the Feature Writers