[AdSense-A]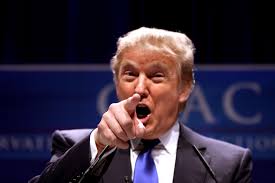 By Nikki Slusher
As I sit in my living room trying to think of the words that accurately describe how I am feeling over what happened in D.C. today, it is taking everything inside of me to not use fuck every other word. Initially, my inner bitch was ready to go kick down the door of the White House bunker myself and drag his ass across the lawn but that is unrealistic, nor would it be okay in any shape or form. The other part of me that is hurt wanted to leave this country and never turn back. But I can't do that, this is my homeland, and I will fight with everything inside of me before I watch the pillars of our democracy fall at the hands of an unblended spray-tanned, cheap ass toupee wearing buffoon. So, before I begin this major ass ripping, let me make one thing very clear: if you feel personally victimized by this message then you need to have a serious evaluation with yourself on ethics, morality, and an exam on the Constitution. Your feelings are no longer fucking relevant, mkay? Now that we're all on the same page let's dive right in because there's a long list of assholes who are about to get torn.
Today marked a shift in this country. We are not divided; we are at war with one another. We passed reasoning and open discussion years ago. There is no more bipartisanship. There is no longer Republicans and Democrats. We have now shifted into Americans and Trumpians, and before Trump supporters – either readers or my personal family and friends – jump my ass about this, I ask that you keep an open mind and let me clarify who I am actually referring to. If you voted for Donald Trump in 2016, that's fine. If you voted for Donald Trump in November, we have differing political beliefs but that is okay too. If you stood outside in D.C. today waving flags and wearing MAGA gear, if you weren't causing destruction or participating in violent acts – which many did not – then again, I am not referring to you. These are all legal actions. You are entitled to do so just as we were only a short time ago.
Yet if the previous paragraph describes you, I ask this – if the Democrats did what today's insurrectionists did at the Capitol in 2016 over Hillary, what would you think? It isn't a secret that a decent portion of Republicans think that the 2020 election was stolen from Donald Trump. In a way I understand because I've been there. Although I do not agree with this viewpoint, I also understood the lawsuits and recounts that followed. Again, these are legal, and opportunities should be pursued if desired. But it's when 88 judges, many who are Trump appointees, the DOJ, and even Trump's own administration come out and say there is no evidence or facts that support these claims is the time to suck up the loss and move on. People lose elections, especially when a majority of citizens are in economic distress and a pandemic consumes the country. This would've happened if Hillary were in charge – and if you're a Democrat and are thinking, "Hillary would've handled it 100 times better" then you need to build a bridge and get with the fucking program because no, she would not have won re-election.
It's not every day you see a president who enters the Oval Office with control of all three branches and only four years later leaves with the opposition in charge of all three. But never have we seen a president encourage his supporters to overtake the Capitol because he is upset with the results of the election. Regardless of your beliefs on the election, this is NEVER acceptable. The same group of people who say "Blue Lives Matter" attacked law enforcement and had a standoff on the floor with firearms drawn. The same group of people who were outraged by the destruction of statues bashed in the windows and doors of one of the nation's most iconic monuments. The same people who are mourning the loss of a woman's life tonight, a woman who was revolting, shouted about how George Floyd shouldn't have been doing anything illegal and complied with police if he didn't want to die. Do you get my point? If you are not outraged by today's mob of thugs and criminals, then let me politely tell you that nobody gives a damn about your thoughts and concerns. Do not shout law and order then provide sympathy to these skid marks on our country who violently attacked our democratic republic today. Now let's address the enablers who made it all happen.
First, to the House of Representatives – you had one job. One. Uno. And you royally fucked it up. Every single one of the GOP representatives who wanted to dispute the election results are at fault. You encouraged this rage within that led to what will be remembered as a revolution of losers. Each one of you need to be removed and replaced with men and women who will honor their oath to the Constitution, not a man. This also goes to the Democrats, who instead of holding the shithead and his groupies accountable instead sat around and cried over tea. You are as despicable as the colleagues you tweeted and conducted interviews about. Nancy, you failed us severely; however, your incompetency is only half of the cause of the fall of the United States.
Next up on the list is the Senate. Majority leader turtle bitch Mitch and Miss Lindsey – you waited weeks, months, and a full four years before you condemned these reprehensible acts. It took you being rushed out of the Capitol building during an insurgence before you could send a tweet that accomplished nothing except for a string of replies that said "too little too late" which you were. But it isn't you two that boil my blood the most. Instead, it is Senators Josh Hawley (R-MO) and Ted Cruz (R-TX) who have ignited a rage inside many Americans from all sides of the aisle. The dumb fuck twins who decided they were going to be "patriots" are the exact opposite. You are traitors. You are instigators. You are fucking useless, and at the end of it all you did what you do best – run and hide when shit hit the fan. As I recall, I didn't vote for a dick-nosed pussy as my senator, and the people of Missouri didn't vote for a spoiled brat who doesn't even live in the state he represents. Do yourselves a favor and resign. Otherwise, take note of what happens next to your god-like leader because you are next on the chopping block.
Up next is today's lord and savior Vice President Mike Pence. I'll be honest, I do not like you nor have I ever. Like most Americans, I did respect you because even though our policy views are contrasting, I saw you as a statesman politician, a respected member of the Republican party. Many of us thought Trump's tendencies to berate and belittle everything and everyone in its path would be controlled better with you as his right-hand man. But when the going got tough, you stood back and stood by. It was not until today, when Donald Trump ignited the fire that led to today's events. I refuse to give you a trophy for finally dropping your balls and taking charge when you sent the National Guard to finally aid law enforcement, but I will say this is your only chance to redeem yourself before history labels you the same as the GOPranos.
Finally, the largest group of brain damaged nitwits that contributed to this clusterfuckery is the media. No, this isn't an echo of "fake news" that we've heard four years too long. This is your fault because you gave Donald Trump, the chicken heads in Congress, and the constant back-and-forth bickering a national platform. Your coverage brought these ideas into the living rooms and cell phones of Americans that perpetuated into radicalization on both sides. That includes Big Tech companies like Parler and Twitter, who ban people for calling each other names yet allowed Trump to go on and on and on with his conspiracies until you finally gave him a 12-hour ban for his violence inciting tweets. Set the standard and remove all users who provoke rioting and insurgence. Yes, that means even if it's the President of the United States.
Today almost every American sat and watched what we bomb others country for happen. Republicans, Democrats, Independents and all in between shared the same sense of loss while the world seemed to — at least for an hour — stop spinning. Despite differences in beliefs, all of us share the same pain after watching one of the most sacred spaces in the world fell under siege. It is time to open your eyes America. These unprecedented actions not only undermine our country's principles, but it completely eviscerates what our Founders imagined what the United States would become.
Our second President John Adams lost to Thomas Jefferson. What did he do? He peacefully moved back to Massachusetts and let the new Commander in Chief take charge. It is time to quit making Americans either Hatfield's or McCoy's and set an example for future generations to come. Disagreement is okay, re-igniting a Civil War that ended over 150 years ago is not how we do things. Act like the leaders you were elected to be or get the fuck out. This is my country. This is your country, and how dare anyone who lets this desecration occur call themselves a patriot. Start calling it for what it is – lawless traitors trying to overthrow the foundation of what once was the land of the free and home of the brave. The world is watching, America. It started with a tweet, but now it is time to decide how this story ends.
Contact the Feature Writers