[AdSense-A]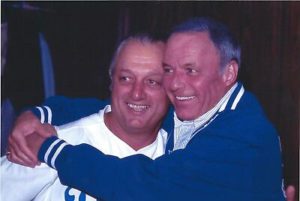 By Geoffrey Huchel
(Two Legends in picture. Tommy Lasorda and Frank Sinatra.)
Famed Los Angeles Dodgers manager Tommy Lasorda died January 7, 2021, after suffering a heart attack, in Fullerton, California. He was 93.
Thomas Charles Lasorda (born September 22, 1927) was an American professional baseball pitcher, coach and manager. He managed the Los Angeles Dodgers from 1976-1996.
Lasorda made his MLB debut in on August 5, 1954 playing for the Brooklyn Dodgers, until 1955. He then went on to play for the Kansas City Athletics in 1956. He became the coach for the Los Angeles Dodgers from 1973-1976, and then became the team's manager. Some of the stats Lasorda accomplished for the Dodgers include two World Series championships, four National league pennants and eight division titles in his 20 years as manager.
He came out of retirement to manage the United States team at the 2000 Summer Olympics in Sydney, Australia. He led the team to the gold medal. In doing so, he became the first manager to win a World Series championship and a team to an Olympic gold medal. Lasorda was inducted into the Baseball Hall of Fame in 1997.
Ringside Report sends our condolences to Tommy Lasorda's family during their time of grief.
Contact the Feature Writers