[AdSense-A]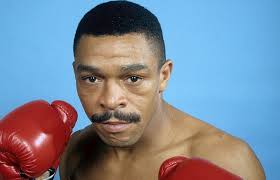 By Donald "Braveheart" Stewart
A hard warrior with tough fists, who could also both mix it and box, but ultimately lost his fight with Parkinson's and pugilistic dementia, Frankie Randall, 58-18-1, 42 KO's passed at the somber age of just 59 years old.
Prior to his leaving us, his trainer Aaron Sowell had in an interview caught the mood of most of our best wishes when he said, "I still talk with Frankie.
He's now fighting the exact same thing Muhammad Ali had to fight – Parkinson's. His son came out and spoke about it recently. I knew what was going on, but I stayed quiet. The night Frankie beat the great Chavez, that was also a great night for me as trainer, in the corner. That was special. So many great memories."
Having heard from Randall's son, DeMarcus, the sad news, it was Sowell who broke it to the world of the loss.
Randal is remembered as the man who beta the man who had the big record – 90 fights, no defeats, and then Julio Cesar Chavez met the "Surgeon".
Anyone who has the nickname "The Surgeon" has just got to be taken seriously and Randall graced not one but four different weight divisions, fought 77 times within them, was active from 1982 through to 2005 and had an impressive record afterwards. As well as beating Julio Cesar Chavez Jr for the first time, he was a three times light welterweight world champion with the WBA and WBC and held the lineal title.
The win against Chavez, JR. was exceptional because in 90 fights nobody had beaten him, the closest had been a draw.
Randall, born in Alabama, grew up in Tennessee and was raised in this tough sport through a massive number of fights that cemented not just his legacy but also his place amongst some of the best fighters in his era.
Making his debut in 1982 it was a birth and difficult early childhood in the professional game as he started in 1982 but didn't fight in 1983. By 1986 he was precocious enough to get a second fight against Freddie Pendleton for the USBA title. The first and only draw he suffered, provided Pendleton with a title shot and not him; that's politics in boxing for you.
It was not the only set back his difficult professional teenage years suffered as six fights and fifteen months later he got knocked out by Primo Ramos when fighting for the NABF belt.
Those teenage years of his career saw him signed with Don King and he spent 6 ½ years touring round on undercards. He won all 17 of his fights and it was now his time.
His progression to early adulthood as a professional boxer saw him fight on the grand opening of the MGM Grand Garden, in late January 1994, as he fought Chavez, JR. Chavez, JR. was an overwhelming favorite and Randall was not believed to be in the same league as Chavez.
The fight saw Randall take the early rounds, ensure that he was still well in front in the middle rounds and then when Chavez Jr managed to come back at him, he floored Chavez, JR. Chavez, JR. was also deducted two points for low blows by the referee – he blamed his loss on this fact – but Randall could still only take away a split decision win. He was the new WBC welterweight champion. In the aftermath of the fight as his son was later to reminisce, he called out to the world, "I wanna say hello to my little boy back in Tennessee. Marcus, I love you, buddy!'"
As his trainer, on the night, Aaron Sowell, was to reflect in later years, "Just to knock down Julio Cesar Chavez, who had never been off of his feet before, was one great accomplishment, but to beat him, it's part of boxing history." It was not his only reflection as he was to remark many years later in interviews for Ring magazine, about the man and his relationship with his son. "Frankie Randall loved his job. After the fight, Frankie's son was riding in the van with us and crying because his father was feeling something from the fight. Frankie replied, "Stop crying, stop crying, you have always been my lucky charm…"
The win was seismic. The equivalent, at least of Teofomo Lopez's win against Lomachenko. Chavez Jr got a rematch in May of the same year.
Having got to the top of the summit as a young man in his professional career, yet more controversy followed in his rematch. An accidental clash of heads led to Chavez Jr being unable to continue and Randall got a point taken off for the incident and thereby lost the fight. It was another split decision, but this time the docked point being significant in a loss for Randall and the belt was gone.
Randall then took on Juan Martin Coggi for the WBA light welterweight title. Randall won by a comfortable points gap.
Coggi got a rematch. In the meantime, Randall had defended the title twice but his ability to win rematches once again eluded him as he lost to Coggi. Again, a clash of heads led to the fight being called off, this time after four rounds. Randall lost his title. Randall was behind on each scorecard by a single point in each one.
He was to get it back, 7 months on in his third fight with Coggi. It was a win on points but no great omen as he then went on to lose it in his first defense to Khalid Rahilou, being stopped in the 11th.
It was now 1997.
The time would have been good to stop but as former trainer and his own son knew, because he kept on saying it, Randall loved his job.
His middle years did see a lay off as he took 18 months away from the fight game before returning. It was now 1998 and after a couple of wins he got to 1999 and took another loss to Oba Carr over 10 rounds.
He was now in his boxing twilight years and unable to resist a return to a ring with Julio Chavez, JR. in Mexico City. It was now May the 22nd in 2004. He lost over 10 rounds to Chavez, JR. in Chavez, JR's 113th fight.
Retirement beckoned and into it he went with plenty memories and great results as a fighter. Of course, like many who find it hard to retire properly, he stuttered in his retirement, announcing it after his fight against Marco Antonio Rubio on New Year's Day 2005, coming back to face Mauro Lucero in February, another loss, and then again to take on Craig Weber in July.
Of his last 16 fights, he lost 13 of them – leaving you to realize that he was fighting long past his sell by date. Of course, he could reflect on those loses including to Michele Piccirillo for the WBU welterweight title, against Peter Manfredo for the IBU super welterweight title, and against Antonio Margarito. None of them easy contests.
It is perhaps easy to see the temptation…
And so yet another warrior of the square ring leaves us. It is however a leaving party that has plenty of times and memories to drift into the small hours of reminiscence that remind us of just how great this champ was.
RIP Frankie.
Contact the Feature Writers