[AdSense-A]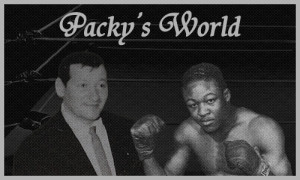 By Packy "Boom Boom" Goldstein
Oy Vey are you going to hear about it today! I know RSR readers I have been off for several months. Yes, Bradley, I know you want me to write about boxing! Hold onto your bagels over there in that great state of Indiana boychick! And if you think it's great, Packy has some property in the Everglades I can sell you cheap! Let's get to some boxing…
Covid-19…
Our Governor Dick DeSatanis as so many call him on Miami Beach is a world class PUTZ! He cares about us like Don King cared about his fighters. Never did and never will. My dahling wife Sadie, got the Covid, but beat it like Foreman beat Frazier in 73. All jokes aside, please wear a mask, social distance or quite frankly, if you come around Packy, with no mask or the proper distance, I am beating the bagels out of you!
Bradley Going Into the Florida Boxing Hall of Fame (FBHOF):
I watched Bradley box as an amateur and he had a hell of a right hand. I think he would have stuck with amateur boxing longer than his three years had he had a decent trainer! Still, his love of boxing, never waned. It led to his boxing writing career ,book Boxing Interviews Of A Lifetime and his successful interview show. All of those accomplishments led to his being an inductee this year in the Class of 2021 for the Florida Boxing Hall Of Fame (FBHOF). Bradley, I hope to be there, but don't travel much these days or for years! Either way, boychick, Sadie and I are very proud of you!
Deontay Wilder…
Meshunga to the 3rd power! Zero talent, but crippling power in his right hand! Zero mental fortitude, but crippling power in his right hand! Zero sense, but crippling power in his right hand! Did I say crippling power in his right hand? Outside of that, a shell of a fighter! Retire already and seek help!
My Pal Al…
Al adored his only child Bradley. I remember the phone call back in 1980 from Al. "Packy, I took the kid to Allen Park in North Miami Beach because he wanted to sign up for football. He heard a noise that mesmerized him from behind a wall. That noise turned out to be the sound of a speedbag. Bradley asked if he could box instead? Because of my love of the sport, I said yes!" Bradley, your father as we both know was at every workout, and fight of yours over the next three years! He was your biggest protector and supporter!
Remember that great pic of him smacking his head when you got robbed by a decision at the old Elizabeth Virrick Gym in Coconut Grove back in 81 when you faced Nelson Austin in a rematch? Beau Jack and Kid Gavilan who were in the crowd that night also thought you won the fight and loved your pops! Boychick your father may not be here in the physical, but he is up there beaming from ear to ear with pride that you are being inducted! I know he will be an emotional part of your induction day. You will honor him as you have every day since he went home on July 2, 1998!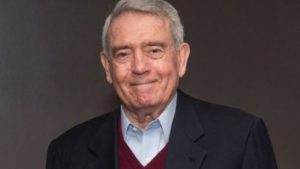 The Chutzpah Award goes to Dan Rather!
Class, compassion, balls and smarts! Enough said…
Contact the Feature Writers