[AdSense-A]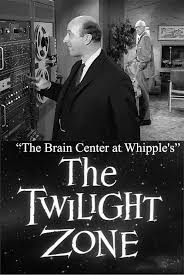 By William Kozy
Since I started writing these reviews, this is the first episode that I've arrived at that I had never ever seen before. So, it's a unique experience to discover an episode that is 60 years old but brand new to me. I wasn't expecting much since "The Brain Center at Whipple's" received only 4 votes in the survey that asked, "What is your favorite episode of the original Twilight Zone series?" tying it with 9 other episodes for 124th thru 132nd place. And unfortunately I'd have to say those low expectations were met.
The story has a bit of a cookie cutter feel to it, as though the writer had a list of popular Twilight Zone themed bullet points to cover, and they checked off as many of those as they could: man's fate in the face of advancing technology, working man facing off against heartless management, purple prose monologues, and a twist ending that in this case you'll probably see coming right down the assembly line of this episode set in the Whipple Corporation. Serling chose the name after a lumberyard in Binghamton where he and this episode's star Richard Deacon grew up.
So, we open with Richard Deacon as CEO Wallace V. Whipple showing one of those in-company industrials to his Chief Engineer Mr. Hanley. The short film is hosted/narrated by Whipple himself, describing for the stockholders the company's progress—all that dry stuff like how many employees there are at the company's plant in the Midwest, etc. But then he gets to his main point. The introduction of the X109B14 assembly machine (looking suspiciously like the computer in "The Old Man and the Cave") that will eliminate 61,000 employees, 73 inefficient machines, save the company $4 million a year. Total automation is the goal down the line in the future. And then Whipple's short film ends. So, okay that's actually not a bad way to sneakily get in a lot of exposition in a creative way.
Whipple then asks Hanley for is opinion of the film and this plunges us into a debate between the two men that unfortunately is not performed with much finesse. Deacon's sitcom-leaning style pokes through the dramatic format too awkwardly. And as Hanley, Paul Newlan doesn't fare much better. Part of the problem is the overwritten dialogue. It's too transparently intended to seem clever: "What the devil can I do with pride? Can it? Bottle it? Wrap it? Produce it? I'm not selling pride, I'm selling product!"
Serling's pen has the subtlety of a baseball bat as he writes this episode, and Deacon matches it with his unnecessarily sledgehammer-like portrayal of cold-hearted corporate greed. Why do actors do this to themselves? To the stories they're telling? I try to imagine how much more interesting this could have been if director Richard Donner instructed Deacon to play his role as if he were "the good guy" in the story. After all, he does give a four-month pink slip notice to Dickerson's crew—that's FOUR month's notice. Who gets four month's notice? That's not bad. A complexity could have emerged from this tale instead of the simplistic treatment of the realities of heartlessness and possibilities of compassion in the business world.
Whipple orders Dickerson, the foreman, to haul the new computer down to where it will be performing its work, and informs him that it's not a matter of dissatisfaction with him and his staff, "it's just progress. Automation." Clearly Whipple's attempt to ameliorate the disgruntled Dickerson doesn't work, although Whipple neither sees that nor cares to see it.
Next, Dickerson is in a bar, drunk and surly. Actor Ted de Corsia lays his anger out for the bartender to hear. He growls all his lines, but I buy it. He asserts than man is better than machine and he's "gonna prove it you" challenging the bartender as though the bartender had anything to do with the situation. All in all, he plays the angry drunk very well and goes stumbling out, marching back to the factory.
As Dickerson enters the computer room, Whipple steps out of his office on the landing high above the factory floor and berates Dickerson for barging in drunk and disorderly. These two men then engage in a debate and this time the staging and acting is better. We have Whipple placed high above looking down on Dickerson, a nice representation of their stations in the corporation, and the distance between them grants a more realistic scenario for their yelling, unlike the office scene where the blocking had Whipple and Hanley yelling at each other with their heads inches apart.
What happens next as you can watch in sources besides Netflix is that Dickerson attacks the computer with a club, causing sparks to fly out. Whipple tells the guard to stop him, but when the guard hesitates, Whipple runs down, grabs the guard's gun and shoots Dickerson who collapses against the machine. He tells the contraption, "You see, machine? It took more than … you to beat me. It took a man." So I said "besides Netflix" because Netflix has inexplicably edited out that scene from the episode. Why I'm not sure. Certainly "The Twilight Zone" has depicted other scenes of people getting shot ("The Monsters Are Due on Maple Street", "Long Live Walter Jameson", "Dead Man's Shoes", "I Shot an Arrow Into the Air", etc.), so why does this one get censored by Netflix?
After the melee, we're back in Whipple's office as Whipple tinkers away. Hanley enters after having visited Dickerson in the hospital. Whipple shows Hanley his newest automated acquisition and he's as giddy as a schoolboy showing it off. Whipple is either unbelievably oblivious or unbelievably cruel; he tells Hanley without a hint of facetiousness, "Oh this should please you" the machine replaces "only one, just one. As a matter of fact Hanley it replaces you."
Hanley registers his surprise (coming perilously close to a comic double take reaction), but he's not too fazed since he's come by to give his notice. The two men seem engaged in a combat to see who can give a shit less. "Oh good, good" responds Whipple as matter-of-factly as possible. Whipple has suspected Hanley would resign, nonetheless he tells Hanley how grateful he is for Hanley's service to the family business over the years and tells him he will give Hanley a very generous severance pay and pension. Well that sounds pretty good indeed, especially looking at Hanley's worn out looking advanced age. Which makes it not believable to me that Hanley's response is to smack Whipple across the face and actually refuses to accept the offering. Sadly again, Newlan's comeuppance speech getting the last word in, carries little juice. I even get the sensation the actor wasn't 100% familiar with his lines? The flow isn't there and so the parting salvo is pretty bland.
A montage of more downsizing flows by, and finally Whipple calls in a technician to run more efficiency checks. Jack Crowder playing the technician has reached his limit, explaining to Whipple that running these efficiency checks ad nauseum is a waste of time. So we get yet another debate on the same subject of technology eliminating so many people that pretty soon there will be no people to buy whatever the Whipple company is producing. And again, Whipple fires an employee only to learn that said employee is quitting anyway. The technician gets in a good one though as he leaves, telling Whipple "I think it might be a good idea if you ran an equipment check on yourself!" Okay it's no backhanded smack across the face, but it's something.
Interestingly, that last comment actually gets under Whipple's skin. As Whipple goes about tinkering with buttons on his machines, various salient lines of dialogue start playing back to him: "When you're dead and buried who do you get to mourn for you?" Lights start blinking on and off, buzzers start sounding, more dialogue unspools, a cacophony of chaos assaults Whipple. He runs from machine to machine trying to gain control as the camera pulls back high and wide. Who's looking down on who now?
We end up in the same bar Dickerson sat in as a disheveled Whipple enters. He toasts Hanley who sits at the far end. He asks Hanley how he's enjoying retirement and then tries to work himself up to feeling positive about something that is obviously bothering him. He goes into his story, and reveals that the stockholders have fired him. And then he loses it, launching into a tirade about being mistreated, how the company felt that being alone with the machines had "warped" him. He's distraught and whines sadly, and Deacon is fine here. He makes up for his one-layered obnoxiousness earlier.
Closing image of the new chairman: Robbie the Robot (one of his three TZ appearances along with "Uncle Simon" and "One For the Angels") is running things now from Whipple's office, twirling a pocket watch just as Whipple had a penchant for doing in his scenes. I'd like to wrestle that heartless robot to the ground but as Mr. Whipple told me, "Please don't squeeze the chairman."
My automated episode rater computes this episode to be 2.875
Contact the Feature Writers