[AdSense-A]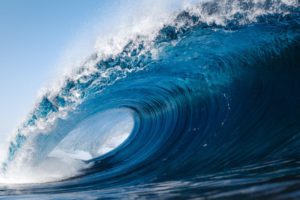 By Janet Grace
Recently, Jon Ossoff and Rev. Raphael Warnock, beat the 'Blue Beejeezus' out of the two Republican incumbents, Kelly Loeffler and Who Cares Perdue, whose associations with the GOP; "Dark Money"; et al; had them slotted to win, despite their questionable past.
This win is bigger than just Georgia or America. Our Planet now has a much better opportunity to survive, BECAUSE of this unprecedented victory.
Stacey Abrams, a Democrat who ran for Governor of Georgia in 2018, losing to Brian Kemp due to massive voter suppression, transformed her loss into a quest to balance the scales of justice by successfully registering and educating Georgians about their absolute right to vote. She and the Organization she founded; Fair Fight Action, succeeded in registering hundreds of thousands of Georgians, whose records had been both legally and illegally purged from the system. Her success in doing so, allowed Georgian's to vote in a fair fight against the Republican party and brought Planet Earth a glorious win, via Georgia. To those stating: "we turned Georgia blue", know this: Georgia was always blue. Two years in the washer cycle of truth, justice, honor, liberty revealed its true colors.
Ms. Abrams' Twitter feed is a joy to read right now. She's received accolades from around the globe from those aware of what this monumental victory translates to. After all, we're in this together. We give thanks to every single person who worked alongside Stacey to make this happen.
America's Democrats now control all three branches of government, a reality which has not occurred since 1929, when Republican's held the legislative, judicial and executive branches, bringing us into The Great Depression.
After our four year existence under "wanna-be" tyrannical, authoritarian rule by the Trump Administration, we have gone from being political neophytes to outright legal analysts. Now that we understand how difficult it must have been for them, we can appreciate and truly give thanks to our Democratic and Republican Superstars gone to soon, John McCain, RBG, Elijah Cummings, John Lewis, Louise Slaughter, for their tireless work in keeping the Trump GOP at bay. Personally, I believe that our "Angels in the Outfield" definitely assisted.
Wednesday afternoon's domestic terrorist attack on our Nation's Capital, ended our worldly celebration that day and I ask that we take a moment of silence to show our gratitude, respect and honor for all American Heroes murdered, injured by the terrorists.
Given everything Trump touches turns to stone, he merely succeeded in revealing his strategy and bringing those that require immediate removal from society, right into the palm of our hands.
The damage caused will be fixed; however, the culpable shall be cremated by the Biden/Harris Administration's Judicial branch. Merrick Garland is just the man to light the torch, and 'MG don't play', just so you know.
I think THAT calls for celebration.
So, to our beautiful Planet Earth, America and the Heroes who made this happen, please enjoy this celebratory YouTube playlist.
Raise your glass, America. We did it. We're free.
I salute you.
JG 😀
)O(
Contact the Feature Writers