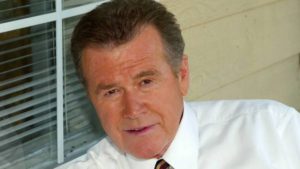 By Geoffrey Huchel
Veteran television star John Reilly, known for his work on the long running daytime drama GENERAL HOSPITAL (1963-), died on January 9, 2021, at age 84. Cause of death was not disclosed.
John Reilly was born on November 11, 1934 in Chicago, Illinois. In his early career Reilly made guest appearances on series such as POLICE STORY (1973-1987), GUNSMOKE (1955-1975), and KOJAK (1973-1978), before landing the role of Dr. Dan Stewart on the daytime drama AS THE WORLD TURNS (1956-2010), in 1974 and staying with the show for two years.
His additional TV and film credits include THE MARY TYLER MOORE SHOW (1970-1977), LOU GRANT (1977-1982), BARNABY JONES (1973-1980), HAWAII FIVE-O (1968-1980), THE BIONIC WOMAN (1976-1978), LASSIE: A NEW BEGINNING (1978), WONDER WOMAN (1975-1979), THE INCREDIBLE HULK (1977-1982), THE LOVE BOAT (1977-1987), QUINCY M.E. (1976-1983), HART TO HART (1979-1984), REMINGTON STEELE (1987-1987), SILVER SPOONS (1982-1987), DALLAS (1978-1991), MISSING PIECES (1983), THREE'S COMPANY (1976-1984), NEWHART (1982-1990), SIMON & SIMON (1981-1989), BENSON (1979-1986), CAGNEY & LACEY (1981-1988), DYNASTY (1981-1989), WHO'S THE BOSS (1984-1992), BEVERLY HILLS, 90210 (1990-2000), MELROSE PLACE (1992-1999), SUNSET BEACH (1997-1999), DAYS OF OUR LIVES (1965-), PASSIONS (1999-2008), and THE BAY (2010-).
His most well-known role was as Commissioner Sean Donely on GENERAL HOSPITAL, from 1984-1994. He reprised the role for the spin-off GENERAL HOSPITAL: NIGHT SHIFT (2007) and again in 2013 for the show's 50th Anniversary.
Ringside Report sends our condolences to John Reilly's family during their time of grief.
Contact the Feature Writers