[AdSense-A]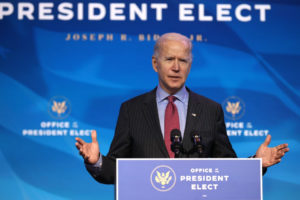 By Nikki Slusher
President-elect Joe Biden has announced his $1.9 trillion coronavirus plan on Thursday, just five days before his inauguration. The "American Rescue Plan" has unveiled how Biden plans to keep his promises. This proposal would administer 100 million COVID-19 vaccines by his 100th day in office, ultimately helping open schools up again this spring.
There are more stimulus checks to come in the plan. Biden proposed another $1,400 checks for most Americans, this would be an additional check after the $600 which brings the total to $2000 that he had rallied for along the campaign trail.
Additionally, temporary unemployment benefits and extend the moratorium on evictions and foreclosures until September of this year. Its long-term effects are hoping to create a raise in minimum wage to at least $15 an hour, expansions on paid work leave, and tax credit increases for families with children. The idea on the latter is that it would help women return to the workforce, eventually lowering the unemployment rate.
About $400 billion of will be used to directly combat the coronavirus, which has taken almost 400,000 Americans' lives with almost two million reported cases worldwide. The rest of the $1.5 trillion would go towards economic relief and assisting state and local municipalities. Biden also dedicated $20 billion for vaccinations along with the $8 billion that Congress recently passed. The new administration said the way they will combat hesitation to the vaccine by working closely with states and localities to get the vaccine distributed to as many people as possible. Once a large portion of the population has had the vaccine the goal is that people will see it is safe and get it themselves.
As Secretary of Health and Human Services Alex Azar announced that there is no vaccine reserve as previously promised, President-elect Biden confirmed his taskforce is working expeditiously with vaccine companies to get enough doses created and shipped nationwide. After the announcement, Secretary Azar submitted his resignation. An update is expected sometime early next week on when to expect the vaccine to be available.
Contact the Feature Writers