[AdSense-A]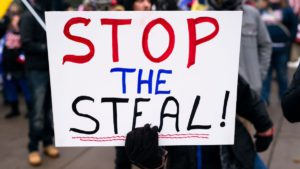 By Ron Signore
I am sick of it. Just completely and utterly tired of the non-stop garbage the right is trying to pull. Believe it or not, we have come a long way from the November 3rd election. We started to see some splintering in those who blindly followed the falsities of a "stolen" election. Instances where common sense or true realization came to light became present in many along the way from the right. In fact, those true MAGAts started labeling Republicans who broke from the fight as traitors. Ironic for those who are currently in an alternate universe arguing what constitutes free speech, but we will come back to that.
The boiling point was the incited criminal activity that came from the obvious direction of Deadly Donnie when the so called "Patriots" stormed the capitol on January 6th. Many mixed accounts have come from these events, none of which anyone can agree to, and ultimately as I go into deep thought on all the trash being spewed, only clusters my mind more to the point where I deem these people cowards.
First, it has become abundantly clear that the only interest from the far right is a white America. The common confederate traditionalist is what the right's vision is for what an American Patriot is. I am not saying there were no African American's present at that insurrection, mainly because I do not know, but the I did not notice many personally, so the majority demographic that has been eclipsed in these rally's is dominantly white males.
Second, the mix of accounts from that day give me this de ja vu feeling of understanding the Kennedy assassination. Was it the CIA? Was it the FBI? Was it the Communists…etc? Except this time, the immediate boasted pride of re-taking the capitol soon changed to this being a leftist, BLM and "Antifa" led assault.
Okay. Let's think about this for a second. If anti-Trumpers were the cause of the insurrection, how come we found out several leads of offenders had clearly planned an intent of starting a revolution? How come Ashli Babbit's social media presence was all related to Qanon material, with a final post of going to burn it down? The right tried t play her as a hero martyr immediately, and then conspiracies came out citing she was some sort of patsy as part of the Antifa set up. Why did we see a pepper sprayed female crying that she did what she did because she wanted to be part of the resolution? Trying to rationalize the degree of damage in acts of looting and rioting to the insurrection at the capitol by tying it to BLM only clearly demonstrates they still have no understanding of what BLM is and what it stands for, like most racists. Either way, none of it makes sense.
This act and the blow back from it led to Cheeto Man finally conceding and agreeing to a peaceful transition of power. It led to figures like the spineless Lindsay Graham to jump ship (apparently briefly) in helping ratify President Elect Joe Biden as the next President. It brought bans from Twitter, Facebook, and a chokehold on Parler itself amongst other avenues. It brought future business losses to Trump post Presidency, continuing to eliminate his relevance in the world sooner than later.
The right doesn't stop grasping though. Fighting the losing battle of foul against a violation of their first amendment rights with the loss of these social media avenues to spew their hate. I admit, I lost patience when someone tried to tell me I didn't understand what the 1st amendment meant to free speech on a thread this past week. They can't seem to grasp that these platforms, both the app forums themselves and the platforms of which they are distributed on are corporately run with terms and conditions to community standards. Violation, or even realistically no violation, of those terms and conditions could have you removed, and it is tough noogies. No one is saying they cannot say or express their feelings within the parameters of the first amendment, they just cannot use that outlet to do so. That is not a crime. Now, it is plausible that morally this is an attack from the left to silence the right in many ways. But it is not illegal or an infringement as they are not governmentally regulated platforms.
The irony is that ideology from the right tends to lean towards big business and usually that comes down to the simple concept of money. The companies creating this buzz have very little need for money, in fact, many are starting to withhold campaign funding indefinitely from certain GOP candidates. So now the message pushing from the right indicates that Big Tech is part of the left conspiracy to align with Agenda 21 and create an all-digital currency and take away our freedoms in this complete Great Reset movement as it has been labeled.
Do not forget the whole COVID is a hoax crapola as well. The second Governor Cuomo and Mayor Lightfoot announced a desire to reopen the cities closer to normal, it was a conspiracy all along according to the radical right to strictly screw over Donald Trump. Not that I would be against that, however, like the perception of what BLM means to the radical MAGAts, they clearly do not understand the purpose of the actions taken to protect citizens and flatten the curve. They actually think that the left wants to shut down the economy (yet push for $2000 stimulus checks to get the economy jump started) and the motive is for an aid of a Chinese take over of America. The way we are doing that, by the way, is allowing local businesses to shut down so the Chinese can acquire real estate on the cheap…because we do not have enough real estate moguls who would love to do the same, someone kind of like Donald Trump?
Look, every day it is something new. Every day is it another form of resistance. Trump enacting the Stafford Act on the 11th for control of the military during transition is being spread to the thought of possibly being in place until March or April when Trump's new administration is in place… they still think Trump will be in the White House?
Anyway, I cannot express enough my disgust with the straws being grasped at and the praying on the paranoia of the weak minded and easily brainwashed. Once President Biden is in, we all have a lot of work to do.
Contact the Feature Writers