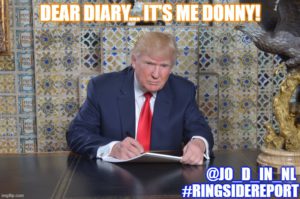 By Jo-Ann "Jo D NL" Duke
The diary scribblings of T4: Temper Tantrum Toddler Trump
Dear Diary,
Hey, buddy, it's me, Donny. Sorry, it's been so long, but I have had so much to do with all the bad things that have happened to me lately, especially since the day my supporters and friends showed me how much they loved me and wanted to keep me here, at least they have been loyal to me.
Not like all those people who said they believed and agreed with me, but as soon as someone said something bad about them, nope, they were out of there like a flash. Imagine, they did not stand by my side, just because of what I said at the rally that day, you know the one I am talking about; it's not like it was anything that I hadn't said before. They are just scaredy cats, right?
Anyway, it was so cool to see all my followers and supporters trying to make things right for me because it's not like any of the people who are supposed to listen to me were doing anything to stop those awful from stealing from me, like Mitchie or Malcolm, whatever his name is.
They didn't stop it though, because the ones that betrayed me; they were able to make it so that Sleepy Joe and Nasty Kamala were declared the winners. They didn't win, it's not right, I am the president, I am the only one who is good enough to be there, after all I had the most votes and won the most states.
No one will listen to me about how they stole everything from me. Now I have to leave this big place, and have to face those awful people in New York, remember, the ones who want to take me to court. Can you believe that they think that I have ever done anything wrong?
Don't they know that I am always the best, that I am always right, and that I am the most perfect person ever, how can they be so stupid and wrong? Well, of course, no one else is as smart as me, so I guess they can't see things the right way, well, my way.
Now, they are trying to say that I was impeached for a second time, they are so wrong, I have never been impeached, it is the same thing again, they are always so mean, trying to say that I did wrong things again.
I mean, I have always done things exactly the way they should be done, well, the way I think they should be; my way is always the right way, after all, how could they not be? I am the smartest one ever, they are just so jealous of me. They are always trying to make it look like I did bad things, but I am never wrong. I will never say that I lost, and that I lied, like I ever have, right, buddy. Imagine anyone thinking that I could tell a lie, as if.
I need to get back to finishing things up before I have my big party before I leave, though not everyone is coming to it. Some of the people are going to that awful swearing in thing tomorrow for those people who stole from me.
I am going to have a 21 gun salute, the planes flying over, a military band, and a red carpet to show how much they love me before I go back to Florida to live in my house there, you know, Mar-a-Lago; it's supposed to be a club, but I am going to move in, I mean, who's going to stop me from doing that.
Well, thanks for letting me talk to you, buddy. It's nice to know that I have at least one person in my corner, who will never disagree with me, and try to talk me into doing things I don't want to do.
Bye forever!
Donny
Contact the Feature Writers