[AdSense-A]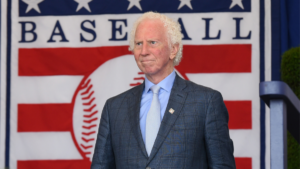 By Geoffrey Huchel
Don Sutton, a Major League Baseball pitcher, died January 18, 2021, in Rancho Mirage, California, after a long battle with cancer. He was 75.
Sutton played in Major League Baseball for 23 seasons. He was a member of the Los Angeles Dodgers (1966-1980 and 1988), Houston Astros (1981-1982), Milwaukee Brewers (1982-1984), Oakland Athletics (1985) and the California Angels (1985-1987).
During his career he won a total of 324 games and pitched 58 shutouts and he is seventh on baseball's all-time strikeout list with 3,574. In 1989 Sutton became a sports broadcaster after his retirement as a player for the Atlanta Braves. Sutton is a member of the National Baseball Hall of Fame, being inducted in 1998.
Ringside Report sends our condolences to Don Sutton's family during their time of grief.
Contact the Feature Writers