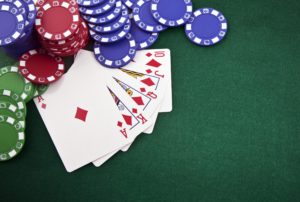 Whenever a serious poker player decides to play a game of poker, one thing they will always make sure to do is, pay attention to the poker lines used in the opponent's players strategy. The reason for this is, every player will always give away hints and small clues that make up their entire poker playing style, so it is always important to pay attention to the small details. Sure, paying attention to your hand is very important, but you will learn a great deal of the tricks of the trade that may be used again on you sooner rather than later.
A real account from a poker player named Matt Tagliaferri, recalls how he used this key initiative to help himself moving forward with his poker playing. Matt's account of the moment leading up to his discovery, was when he decided to play against a player who understood continuation betting very well.
As he observed he realised that he often came into the pot, with a raise constantly that followed with a bet on the flop of the game. Within three hours of the game being commenced, the player had played with preflop raises that were $12, on a $2-dollar range table. This then followed with continuous $15 dollar bets with no showdown of all the three hands played by the individual. Upon reflection, Matt compiled a series of tips for future players to benefit from and use within their own future games.
The top things you should know…
Repetitiveness Means a Weaker Hand Is Involved
The biggest tip to take notice of here is that, when a player constantly does something more than several times, there is a high chance that this associates them with holding weaker cards, than it is being that they have a strong hand. The reason being is that it is very hard to have a strong hand within Texas Hold'em, meaning most of the time the strategy and the antics of raises prior to the flop, is all in aid of trying to make the opponents believe that there is something to be wary of. By paying attention to the hands at stake, there will be a high chance that you can identify who has a weak hand from a strong hand. It's always about the attention to detail and paying attention to a player's bluff.
Pay Attention to The Pot
Always pay attention to the pot of the game too. If the pot is around £60, and the player is only making bets of a third or less, this is another indicator of a weak hand. Players will often raise their bets beyond the pot value if they have extremely strong hands. Generally, if you go below the pot value, this is evidence enough to their stronghold within the game, not actually accounting to anything at all. The great thing about noticing the poker lines that a player presents, you can actually push them to a corner to either make them fold or call.
Mimic Their Strategy to Beat Them
You can force the players you play against into a corner if you raise the rounds that you are playing-but this must only be done, once you have noticed that your opponent is repeating their bets in the same style and frequency. If the player you are against is calling rather than folding from you pushing them into a corner, depending on your hand-your job is to extract as much money as you can from them.
In this situation, the player Matt had a 2 and an Ace, so from observing how his opponent was playing, he was fairly confident that his hand was better than the opponent. So, Matt decided to raise by $15 for each round until the player ultimately folded.
Playing Aggressively In Moderation
Most players will actually check in their strong hands within the second round and flop, yet Matt said players should take note and be against it. By slow playing, it actually prevents a player from winning a huge pot of money on their watch, as a smaller amount will be added to the pot from all players involved. Of course, winning big is not possible each and every time, however sometimes players will be forced to keep up the bets for games sake and that will of course build the pot further. You can keep attacking to try and get a call from you opponents but at some point, you will scare your opponents away which means a smaller pot of money, so this is another thing to keep in mind here. Go hard, but maybe not too hard.
Have Patience Because It Can Take Some Time
Matt recalled how he bet in the same manner as his opponent in continuation and it took a while to steer the game in a direction of your favour. However, it will work in your favour, as this can often cause the opponent to steer thoughts in your direction, that you may have the weaker hand instead. This means alternatively they wouldn't come after you and try to call your bluff instead. You need to pace yourself and try not to give too much away, that you are onto whoever you are playing against.
When mimicking your players bluff line, they can get very comfortable with the idea that your hand is in fact possibly weaker than theirs is. Of course, it could push your opponent into a showdown, yet if you have the hand you really have nothing to worry about nor lose. Before you happen to take this lead and direction, you need to make sure that your opponent really does have a weaker hand. But alas, you would only begin the chase when your opponent has made numerous low bets, one after the other. When Matt made another $15 bet after the opponent's flop, he followed it up with a $20 bet for a red turn card, which created a trap for his opponents to check raise Matt. Then when hands were revealed Matts hand won his opponents chips and the entire pot all together.
Whenever a player is sneakily trying to prolong the game in the safest possible way, they will always be trying to convince you that they have the stronger hand. Don't be surprised if after many rounds of the same incremental bets, they double up or try to surprise you out of the blue, with a much larger bet. A bigger bet out of the blue is just trying to put you off your game and make you doubt your instincts on what your opponent is really up to. Matt said that although this costs the players more money in the end, as a player you sometimes need to create a show to stay in the game, and hope there's a chance you can change your fate with the hand of cards you play with.
While many poker tournaments take place online these days, you may of course find it harder to read opponents due to the lack of face to face observation. However, if you observe the patterns people bet in, it will always be a huge giveaway and inkling to use some players playing lines against them. Sure, you will not be playing like James Bond or the best players in the world like Daniel Negreanu anytime soon, but practice always makes perfect!