[AdSense-A]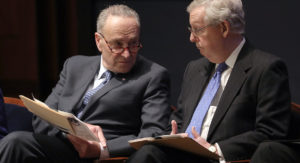 By Nikki Slusher
It seemed like the day would never come where senate Minority Leader Mitch McConnell would give up his love for his precious filibuster in exchange for a power-sharing agreement, but yesterday was the day pigs flew. McConnell ended his stalemate with Majority Leader Chuck Schumer, allowing the negotiations for the power-sharing agreement to move along.
With McConnell laying off on his demands, the Senate is now able to proceed immediately in creating an "organizing resolution" which will provide a ground set of rules on how the Senate will operate for the next two years. No agreement has been completed publicly at this time, however, both Senators have noted that they are modeling their talks off the 2001 agreement – the one developed the last time the Senate was evenly divided.
Sources familiar with the arrangement have noted that committees will include an equal number of Democrats and Republicans, with Democrats holding the committee chair positions since technically they hold the majority. The terms also would allow bills to be brought to the Senate floor even if the committee vote is tied.
The fight to end the filibuster is not over though. McConnell's concession comes only after two moderate Democratic senators stated they would not support removing the procedural tool. Although McConnell did not mention names, the two Democrats who stated opposition to Schumer's desired rule change are Joe Manchin (D-W.V.) and Kyrsten Sinema (D-AZ.) who publicly stated their oppositions.
The end of the standoff between the two leaders had brought the Senate to a halt in the first few weeks of the Democratic majority's control, causing the chamber's routine operations for committee resources and placement. It potentially threatened President Biden's ability to follow through on his anticipated legislative agenda. Schumer has yet to confirm if he plans on intending to end the filibuster officially, but McConnell was not going to risk the chance of losing complete power for the next two years.
McConnell's lift on his standstill may allow expected talks to now proceed, however, any immediate changes to the filibuster are unlikely to occur at this time. Details on the new organizing resolution have yet to be released, but we should expect updates throughout the week on what to expect from the agreement.
Contact the Feature Writers