[AdSense-A]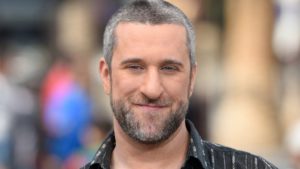 By Geoffrey Huchel
Former child actor Dustin Diamond, known worldwide for his role of nerdy Samuel "Screech" Powers on the hit comedy SAVED BY THE BELL, died February 1, 2021, in Florida. He was 44 years old. Diamond's death comes after he was hospitalized three weeks ago for not feeling well, leading to his cancer diagnosis. Diamond was undergoing chemotherapy treatments.
Before Diamond found fame on SBTB, he made appearances in TV and film productions such as IT'S A LIVING (1980-1989), BIG TOP PEE WEE (1988), SHE'S OUT OF CONTROL (1989), and THE WONDER YEARS (1988-1993).
Diamond began playing his iconic character, Screech, on the short-lived series GOOD MORNING, MISS BLISS (1987-1989). The series starred Hayley Mills as Miss Bliss, and a group of young actors playing her students, including Diamond and his longtime co-stars Mark-Paul Gosselaar and Lark Voorhies. When the series was canceled, Diamond, Gosselaar and Voorhies were brought on to reprise their characters on a revamped version of the show called SAVED BY THE BELL (1989-1992). The new series introduced three new cast members, Mario Lopez, Tiffani-Amber Thiessen and Elizabeth Berkley. Dustin and his co-stars would work together on SBTB and its many incarnations, including SAVED BY THE BELL: HAWAIIAN STYLE (1992), SAVED BY THE BELL: THE COLLEGE YEARS (1993-1994), and SAVED BY THE BELL: WEDDING IN LAS VEGAS (1994). After SBTB ended Diamond started doing standup comedy and made a cameo appearance in the comedy DICKIE ROBERTS: FORMER CHILD STAR.
Diamond's former SBTB costars Gosselaar, Lopez, Berkley and Thiessen all took to social media to post tributes to their co-star and friend.
Ringside Report sends our condolences to Dustin Diamond's family during their time of grief.
Contact the Feature Writers