[AdSense-A]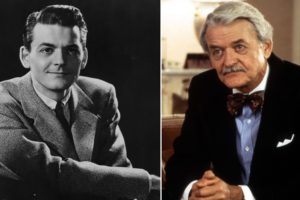 By Geoffrey Huchel
Tony and Emmy winning actor Hal Holbrook died on January 23, 2021, in Beverly Hills, California. No cause of death was disclosed. He was 95.
The legendary Hal Holbrook had a long and celebrated career, making appearances on stage and in several television and film.
His stage credits include Arthur Miller's "Incident at Vichy", "Man of La Mancha", and "The Glass Menagerie". His television and film credits include THAT CERTAIN SUMMER (1972), MAGNUM FORCE (1973), CAPRICORN ONE (1977), MURDER BY NATURAL CAUSES (1979), THE FOG (1980), CREEPSHOW (1982), GEORGE WASHINGTON (1984), WALL STREET (1987), DESIGNING WOMEN (1986-1993), THE FIRM (1993), EVENING SHADE (1990-1994), THE BACHELOR (1999), THE MAJESTIC (2001), THE WEST WING (1999-2006), ER (1994-2009), INTO THE WILD (2007), KILLSHOT (2008), WATER FOR ELEPHANTS (2011), LINCOLN (2012), SONS OF ANARCHY (2008-2014) and HAWAII FIVE-0 (2010-2020).
Holbrook won acclaim for portraying two historical figures- Mark Twain and Abraham Lincoln. In 1954 Holbrook developed a one-man stage show, Mark Twain Tonight!, and would go on to win a Tony Award for his performance. He would continue to perform his signature role for over 60 years, retiring the show in 2017. His Mark Twain Tonight! show was broadcast on television in 1967 and earned Holbrook and Emmy Award. He portrayed Abraham Lincoln in the miniseries LINCOLN (1974-1976). His performance earned him an Emmy for Outstanding Lead Actor in a Limited Series. He also portrayed Lincoln in the mini-series NORTH & SOUTH: BOOK 1, NORTH AND SOUTH (1985) and NORTH & SOUTH: BOOK 2, LOVE & WAR (1986).
It's also important to mention Holbrook's military career, serving two years in the United States Army during World War II.
Ringside Report sends our condolences to Hal Holbrook's family during their time of grief.
Contact the Feature Writers