[AdSense-A]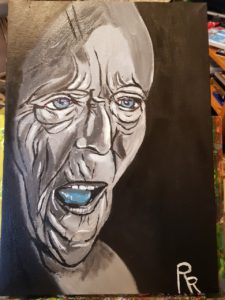 By Radical Rhymes
I wish I could properly describe the pit. It's a deep and dark place that almost completely consumes you. As a bipolar sufferer I have one foot always in the shadows, that's just the way my life has been.
I had some bad childhood experiences, despite the best efforts of my family, and I've had my fair share of grief and loss, so it isn't just a chemical thing for me. But the pit is the worst.
There is no outlet, no light at all, everything is bleak beyond imagining. Historically, sufferers have described it as a black dog, or a raven's wing, countless other things. For me it's a chasm, and I feel myself drawn inexorably towards it.
The chasm leads to the pit and that's where I've been again recently. When I was in my late teens, after my dad died, I embraced the pit. I once stood on the railing of the Tamar bridge, before it was extended, and let the wind decide my fate. I teetered but I didn't fall. That was the closest I've come to making the chasm real in physical space, though there have been other times.
What I've learned from my most recent slide into the chasm, my awful time languishing in the depths of the pit, is that I will daily struggle against the creeping shadows. That my life-long belief that I will somehow escape them into a glorious and permanent light is a folly – a conceit.
My life will always be colored by the shade, and I will do better to accept that than fight it. But I will not anticipate the pit any longer, I will resist it until the resistance causes me more pain.
Radical Rhymes is a professional artist working with a range of media – predominantly animal/human portraits and landscapes – including, most recently, hand painted furniture. You can see his work on Instagram Radicalrhymes1969 or on Twitter @RhymesRadical.
For commissions, please contact him on Twitter via Direct Message or by email at: radicalrhymes@outlook.com His work is also available to buy on Etsy
Contact the Feature Writers