[AdSense-A]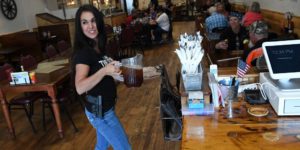 By Nikki Slusher
She may have only been sworn into office on January 4th, but America's second most hated congresswoman Rep. Lauren Boebert (R-CO) is already facing multiple challengers for the 2022 election cycle, including Democratic Colorado State Senator Kerry Donovan. Can you imagine the kind of material Donovan is about to have over the next two years to use against Boebert? This is every politician's dream to have a blowout win.
Her slogan alone tells you more than enough about her. "Pro-Freedom, Pro-Guns, Pro-Constitution" is short for all about doing whatever she pleases without repercussions while taking selfies with assault-style firearms.
The only time she knows the Constitution is when someone says her trigger words "liberals", "Democrats," and "socialists" when she then starts screaming about said firearms and the Second Amendment. Boebert, who is the knock-off Marjorie Taylor Greene, was also once passionate about the QAnon conspiracy theory, even commenting that "if this is real, then it could be really great for our country."
She's also an expert on immigration policy for the entire country, tweeting that "No one is happier about Biden's open border executive orders yesterday than human traffickers, coyotes, and criminals. These orders do NOTHING to help the American people, open the floodgates for illegal immigration and weaken border security." Reading this as a native Floridian who now resides in Harris County, Houston, Texas, excuse me while I choke on my sweet tea at her wisdom on this topic.
On Twitter this week she tweeted how she represents one of the largest districts in the country, which if you are looking at it geographically it is. Rep. Boebert (QAnon-CO) represents Colorado's Third Congressional District. Nationally it is the 15th-largest district by area in the county. It includes 29 counties and 47% of Colorado's geographic territory with a population of almost 757,000. Ironically, it does not border anything except American soil and Caucasians made up of over 70 percent of its constituents.
She may have some knowledge on criminals considering her record with local law enforcement is longer than her time in office will be. Boebert wouldn't know much about ethics, morals, or responsibility. She probably thinks this country doesn't need "accountability" since we can do our own taxes through TurboTax, let alone the only account she knows of is the one funded by her voter's donations that she used $22,000 for mileage reimbursement during her campaign.
Legally candidates who are running for federal office can reimburse themselves for miles driven in personal vehicles. To calculate the cost, they must use the Internal Revenue Service's mileage rate, which was 57.5 cents per mile for 2020. Her campaign's financial reports showed that she wrote two checks that totaled $22,259 from her campaign account for mileage from January to mid-November of last year.
For Boebert to be able to justify those reimbursements, she would've had to drive approximately 38,712 miles while campaigning even though she did not have any publicly advertised campaign events in March, April or July, with having only one in May. Additionally, since the reimbursements came in two payments – one at the end of March for $1,060 and the other one for $21,200 on Nov. 11 — means that Boebert would've had to have driven about 36,870 miles in only slightly more than seven months between April 1 and Nov. 11 to account for the second payment's drastic increase. She must've taken good notes after reading her favorite president's NY Times Best Seller 'The Art of the Steal'.
If you couldn't tell, the freshman lawmaker who recently stated there shouldn't be a Department of Education just graduated high school herself after taking about 18 years. Nothing wrong with getting education later in life, however, it's the fact that she demands respect and gives her two cents (that's with inflation) as if she is a scholarly expert when in reality, she couldn't even pass a metal detector.
It's not sure if LoBoe the Clown will last in Congress too much longer, especially since she seems to have implicated herself in the Capitol riot via tweets – yeah, there's still a tweeting problem even with Cheeto head banned. Either proof of her participation or another future warrant for a no-show court appearance will come way before election day in 2022.
Contact the Feature Writers