[AdSense-A]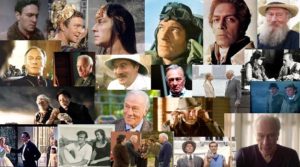 By Geoffrey Huchel
Oscar winning actor Christopher Plummer died February 5, 2021, in Weston, Connecticut, due to injuries as a result of a fall. He was 91. Plummer's seven-decade long career includes performances in film, television and theatre.
Plummer made his Broadway debut in 1954, performing in leading roles including Cyrano de Bergerac in "Cyrano", Iago in "Othello" and playing the titular role in "Macbeth", "King Lear" and "Barrymore", as well as appearing in "J.B.", "No Man's Land" and "Inherit the Wind".
Plummer is one of the most celebrated actors of all time, having received various accolades for his performances in some of Hollywood's most beloved films. One of my personal favorites and the one he is most remembered for is the Oscar winning musical drama THE SOUND OF MUSIC (1965), starring Julie Andrews. As Captain Von Trapp, Plummer conveyed the many layers to the character who was perceived as an old curmudgeon, however as the film progressed his warmth and compassion were brought to the forefront during the film's most pivotal moments. Another one of my favorite films is the thriller WOLF (1994), starring Jack Nicholson. Plummer played Raymond Alden, the boss to Nicholson's character and the estranged father of Laura Alden, played by Michelle Pfeiffer.
His other notable credits include SOMEWHERE IN TIME (1980), MALCOLM X (1992), DOLORES CLAIBORNE (1995), 12 MONKEYS (1995), A BEAUTIFUL MIND (2001), NICHOLAS NICKLEBY (2002), NATIONAL TREASURE (2004), SYRIANA (2005), THE LAKE HOUSE (2006), UP, (2009), THE LAST STATION (2009), BEGINNERS (2010), THE GIRL WITH THE DRAGON TATTOO (2011), BARRYMORE (2011), ELEGY (2017), THE MAN WHO INVENTED CHRISTMAS (2017), ALL THE MONEY IN THE WORLD (2017) and BOUNDARIES (2018). One of his last films that I enjoyed was the murder mystery drama KNIVES OUT (2019), playing family patriarch Harlan Thrombey.
Plummer won an Oscar and an Emmy for his performance in BEGINNERS. He was additionally nominated for an Oscar for his performances in ALL THE MONEY IN THE WORLD, and THE LAST STATION.
Ringside Report sends our condolences to Christopher Plummer's family during their time of grief.