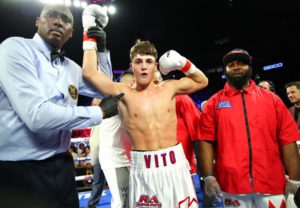 Photo by Mikey Williams/Top Rank
Vito Mielnicki Jr. lived up to the hype as he blasted out Tamarcus Smith in just 76 seconds in what was an historic professional debut on Saturday night at The Prudential Center in Newark.
The 17 year-old Mielnicki became the youngest boxer ever granted a license in The Garden State, and the Roseland, New Jersey native thrilled a crowd of nearly 1,000 of his own supporters who came out to witness the fight.
Mielnicki landed a booming right-left combination that sent Smith face-first into the bottom rope, and the fight was waved off by referee Shada Murdaugh at 1:16 of the opening frame.