[AdSense-A]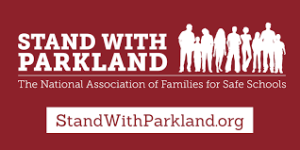 By Nikki Slusher
After the Valentine's Day school shooting in 2018, the families of the Parkland victims' have worked effortlessly to lobby for gun and school safety. Over the last three years, 'Stand With Parkland' has focused on promoting these efforts after the tragic loss that occurred at Marjory Stoneman Douglas H.S. where 17 people were killed by a gunman who was a former student. While it may not have dominated the news, the group's approach was successful in introducing legislation and creating networks with lawmakers from both sides of the aisle – especially with members of Congress from Florida.
So, when newly elected U.S. Rep. Marjorie Taylor Greene (QAnon-GA) had previously claimed that the Parkland H.S. shooting was a "false flag" attack, her assignment to the House's Education Committee by Minority Leader Kevin McCarthy (R-CA) unsurprisingly created a national backlash. Greene was seen in a video harassing Parkland survivor, David Hogg, where in a later interview she called him and the group of survivors working together "idiots" led to demands for her resignation or removal. Ultimately, the House stripped Rep. Greene from her committee assignments, yet this still hasn't solved the bigger problem – conspiracy theorists like MTG still holding positions of power in the U.S. Congress.
After two Parkland families spoke with Greene, which led to their decision to write a letter regarding how her committee assignment is detrimental to their goals for school safety, providing secure campuses, and the push for responsible firearms ownership. Stand With Parkland President Tony Montalto, whose daughter Gina was killed in the shooting, said that Greene was "reluctant to recognize the effects of school shootings not just on the families but on the entire community."
"It led us to believe she couldn't be effective in stopping the problem," Montalto continued. When the House decided to hold a vote over stripping Greene of her committees, it was expected that only one or two Republican lawmakers would break party lines; however, 11 GOP lawmakers – including three from Miami – joined the Democrats in ousting her from her seats. Many agreed that the Miami Republicans who voted for her removal was due to their district's proximity to Parkland. Two were recently elected in November, while the third shares a close relationship with the Parkland survivors and families already. Another four of the GOP lawmakers who voted "yes" were from New York, where Greene once questioned the validity of the 9/11 terrorist attacks that happened 20 years ago this September.
The votes of the three South Florida Republicans' gives the families hope for the future of their cause to work with the new Congress members. As the third anniversary of the nation's deadliest school shooting comes this weekend, the group says it is hard to maintain political outreach that other groups can with the new representatives due to the pain of the loss and mourning that comes with this time of the year.
One of the "yes" voting Miami representatives, Rep. Carlos Gimenez, said his vote was one of conscience. He also argued that Rep. Marjorie Taylor Greene's volatile rhetoric is dangerous and will cause the Republican Party harm in future elections if the party fails to fully reject it. "Actually, the problem is the rhetoric, the QAnon, the conspiracy theories," Rep. Gimenez said to CNN the day following the House vote. "If you get attached to that … it's going to cost us the majority in [2022]. I reject all of that. I think most of my colleagues on the Republican side reject it."
Contact the Feature Writers