[AdSense-A]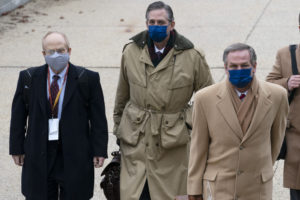 By Jo-Ann "Jo D NL" Duke
Watching today as the defense team he had gotten at last minute when the original team had abruptly quit, the video clips that they had decided to use were used to portray the former president, T****, as a person who harshly renounced violence; they attempted to show him as someone who only wanted to be considered the law and order president.
They were trying to make him seem like a person who honestly only wanted the best for the country. The defense team used extremely edited snippets of different speeches, all taken from speeches and rallies he had given; and thinking they were being smart, they used very short clips of various|Democrats including the new president talking about fighting.
It was obvious that they were trying to make it seem like T**** was the person who was calling for things to be peaceful and calm, and at the same time making the Democrats the ones looking to get violent or to rile up the people they were speaking to at the time.
What they did not say was that during those speeches the clips were taken from had not been used to rile people up to turn them against the other major political party in the country.
I will say that the lawyers that were hired at the last minute before his impeachment trial were slightly clever in that they made sure that none of the clips continued on to the point that it could be seen where the former president had openly encouraged violence, among his supporters towards those who challenged them, or truthfully, those who did not like him or want T**** to be president or to be re-elected in November 2020.
They made sure that none of the "impartial" jurors among the members of the Senate saw those clips in their entirety, just the sections they believed that showed their client at his best.
They had no issue with saying that what happened on January 6th was not an insurrection, but had the nerve to call the peaceful protests during the summer as violent; as well as stating that the violent protestors had to be removed from Lafayette Square.
All the while in reality, what happened was that the protestors were violently removed from there just so that T**** could walk down the street and have a photo taken in front of a burned out church holding a bible, where it seemed like he didn't even know how to hold the bible properly.
Now, unless something miraculous happens overnight, the odds are that the former president will be acquitted because so many of the Republican senators are holding onto the idea that they have stated that it is unconstitutional to impeach a president who is no longer in office.
It may only be my opinion, but it seems that the truth is that if they do this, then therefore, they are not having to go against T**** and his base and that by doing this, they won't have to be worrying if T**** will use whatever political pull he will have at the time when they are looking to be re-elected.
The way it seems to a view from the outside is that they are more concerned with their own future political plans than making sure that the former president can never get back into office, and cause even more trouble than he has done so in the past five years; they are not willing to stand up and make sure that he is never given the chance to divide the country even more than it already is.
In a fair world, he would be convicted of impeachment and would be barred from ever holding a federal level political office but unfortunately it does not seem like something that is actually going to happen. I guess this is one longed for dream that will not come true.
Well, that's it for me, signing off for now from Canada, wishing all of my American friends the best, and hoping that the senators do what is right for the country, and that it will help start the healing that is so desperately needed in the US.
Contact the Feature Writers