[AdSense-A]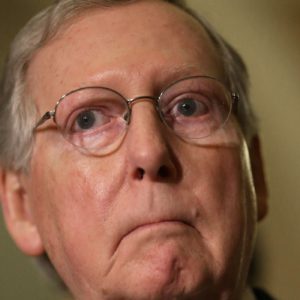 By Janet Grace
Here's what I believe.
I think that by Mitch McConnell voting to acquit, he paid a debt owed (plus the vig) to whomever he owed it to.
He made sure he wouldn't go "silently into the night". Why is that?
This man is too slick for that. Perhaps one of his beloveds was being held at gun point or he is under threat in some unbeknownst way, which he will then explain, when the truth comes out, because if there's one thing we have, it's enough evidence to play "The Queen's Gambit" with this shit.
That would be the only reason I would think that someone could stoop so low as to do what he did. That was a silent dog whistle, if I've ever heard one.
Shut-up!
Jus' sayin', Smarty Pants!
To those of you singing: "This is it!" I urge you to stop right now. #3x2y's veiled threat should be making you laugh. He's just further incriminating himself for indictments up ahead. His insanity and brazen attacks will be his downfall.
Look, if you're rolling your eyes because you no longer believe, that's on you, man.
America is an ongoing project. This is where we are as of right now. That doesn't mean we keep it like this. We've got Jamie Raskin, et al. We've got people for whom this is very personal, which includes us.
What IS in place THIS TIME, which was not in place, LAST TIME, is a BIDEN/HARRIS ADMINISTRATION.
If you do NOT believe that President Biden will activate THE UNITED STATES MILITARY to combat the Beverly Hillbillies, you've got another thing coming.
As he usually does; every time he opens his mouth or makes his thoughts known, #3x2y and all of his Cult missed their window.
After you read this article, let us begin a campaign to ensure that every form of extreme domestic violence organizations whose rhetoric threatens our Democracy, is listed as a TERRORIST ORG. on the books, like what's his face did with BLM, et al.
This is just the start of our next journey in solidifying our Democracy.
Think of it as if though we have just spayed "Raid" murder hornet killer into the equation. We continue to irradiate and censure the radicals until they are voted out.
They've shown their cards, the ones up their sleeves, the ones in their hearts and the big one stuck on their foreheads.
For those of you who believe? I'll leave you with Psalm 27. That's one of the ones I used to say to myself on the train; on my way to work, in the asphalt jungle.
Be patient. Have faith.
That's the tweet.
Comment AWAY!
Best,
JG )O(
Contact the Feature Writers