[AdSense-A]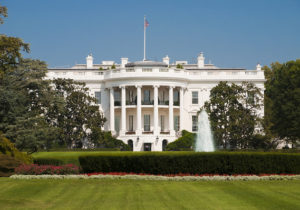 By Ty Ross
President's Day was on Monday, so what better way to celebrate some of our past presidents than by highlighting a few of their quirks. A day that would normally be honored with both local and national parades paying tribute to present and former presidents but was instead overshadowed by impeachment trial and acquittal news dominating the cycle. Add to that being in the midst of a global pandemic, and it was very easy to forget a holiday that was almost forgettable to begin with.
While most in this country are aware of the fact that George Washington was the first President, Abraham Lincoln was the one who ended slavery and Barack Obama was the first African-American to be elected, I thought I'd share some lesser known facts and have a little fun.
Ranging from cursing parrots and on the toilet interviews to nude hobby horse riding, there was no shortage of wackiness in the White House during the 232 years since we elected our first Prez. For the sake of overload, I've picked five of my favorites to share.
Let's begin with John Quincy Adams (1825-1829). Not to be confused with his father, the second President and Founding Father, John Adams. Being political royalty, JQA was the only one of his siblings to carry on the legacy of the elder Adams. Concerned with physical fitness, John Quincy would spend the early morning hours swimming nude in what is now the Potomac River. Thankfully, he kept this ritual to the warmer months. During colder times, he would choose to jog around Washington instead. Which is good, because the last thing one needs is to see the words President and shrinkage in the same sentence.
We all know that parrots can talk, but did you know that they can curse as well? Yup. Cue President Andrew Jackson (1829-1837), successor to John Quincy Adams. Jackson had a long career as a lawyer, Congressman and judge, before becoming the 7th President of the United States. But he was as known for his temper as he was his service. It is speculated that this is how and where his foul-mouthed feathered friend, picked up the bad habit. While personally I think it's hilarious, the mourners at Jackson's funeral did not. Especially when Poll (as the bird was called) had to be removed from the funeral for behaving erratically and shouting curse words at those in attendance.
Lesser-known President, Benjamin Harrison (1889-1893), was the first to have electricity installed in the White House. No more reading by gaslight or candle-light sounds pretty great, right? Apparently not if you are afraid of being electrocuted. As was the case with Harrison and his wife. They refused to touch any of the light switches themselves out of this very fear. In all fairness, it was still a pretty new concept and of all the ways to die, being electrocuted isn't the most noble of ways to go out as Commander-in-Chief.
Remembered most for his conservative political views, Calvin Coolidge (1923-1929) was a staunch advocate for the ordinary man. But one of his habits was anything but. A fan or horses and horseback riding, some thought it would be funny to give him a mechanical horse as a prank. But the joke was on them. Not only did Coolidge absolutely love the gift, and had it installed next to his bedroom, he rode it frequently- and in the nude.
I'm starting to see a clothing optional theme here. Last, but certainly not least we have none other than our 36th President, Lyndon B. Johnson. After the assassination of JFK, Johnson wasted no time moving forward a more liberal political agenda than his predecessors. This included vocal opposition to segregation, and The Voting Rights Act. It was these actions that prompted many Southern Democrats, like Strom Thurmond, to leave the Democratic Party for good. Not only did this not bother Johnson, neither did relieving himself in public. He had no problem urinating on the White House grounds (when you gotta go, you gotta go), or calling reporters into the restroom to finish an interview while he was on the toilet. I like a hard-working President as much as the next girl, but I would say that's taking multi-tasking to an entirely different level.
Well, there you have it. I suppose we should be grateful that there were no camera phones or internet in those days, or we might be reading about our Presidents at an adult bookstore, instead of a library!
Check out Ty's book THE POWER OF PERSPECTIVE. It's a collection of affirmations she wrote to get her through a difficult time in her life. Words of wisdom that apply to anyone, and everyone, to get through the hard times. If you're questioning yourself, and need a reminder that you are in control… Click HERE to order your copy.
Contact the Feature Writers