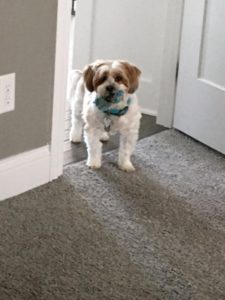 RSR Press Release
RSR is thrilled to welcome our newest writer the canine columnist Santino Corleone Berkwitt.  Here is his bio:
Santino Corleone Berkwitt is a native of Wagoner Oklahoma.  He studied Human Behavior at LU (Life University)  in Tulsa, Oklahoma. While he has faith in humanity as a whole, he has become despondent in the manner in which humans relate to one another. Santino has seen a lack of civility, the increase of selfishness, and too many people who are worried about competition as opposed to community. The lack of compassion that he has witnessed on social media and in the news is very troubling to him. He wants the world to be filled with love, laughter, and "good boy" treats.
Santino spent a part of his life in service to others, particularly small breeds in a puppy mill. Despite that  harsh experience and being severely taken for granted, Santino has proven himself to be a fiercely loyal, filled with joy and spunk. Deciding that the puppy mill was no longer the life that he wanted to live, Santino became a part of the Edwards-Berkwitt household, joining his sister Bella Dawn.  The family resides in Northwest Indiana.
Santino is an activist! He values humanity, serving as campaign chairman for the Dogs for Biden and BLM- The Havanese Chapter.  His motto is "if you allow one, just one person to have his or her rights taken away, then you can't complain when yours are taken away".
He likes to go for car rides, often hopping in the drivers' seat if he feels that his parents aren't prompt enough in getting the car rolling. Santino also enjoys movies, with "The Godfather" being his favorite. He loves treats, playing in the snow, and rubs behind his head.
It is his hope that, through his eyes, people can see the simpler side of life. He hopes that people can see the world outside of their specific lens and to that of their fellow man's point of view. He hopes that people can be less selfish, better neighbors, and more active in their communities.