Can Ryan Garcia Really Beat Manny Pacquiao?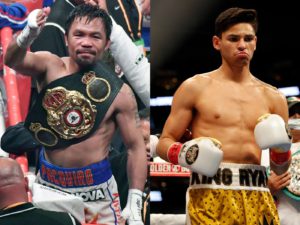 Boxing is always looking for new superstars. This could well be the year of Ryan Garcia who has proved himself to be more than just a social media star. One potential opponent for Garcia is the legendary Manny Pacquiao. Could the youngster beat him?
2021 has already seen the lightweight boxer in action. He'd made a big name for himself on social media but needed a step up in opponent in the ring. January saw him take on British boxer Luke Campbell. His opponent was an Olympic champion and twice failed in world title challenges.
To his surprise, Garcia was knocked down in the second round, the first knockdown of his career. Garcia fought back well which is always the sign of a top fighter. A savage body shot in the seventh saw Campbell unable to beat the count, setting up a potentially mega fight against 'Pac man' in 2021.
That win took Garcia's record to 21-0 and there has been plenty of talk about world title shots. Will he stay in the lightweight division though? There's been rumors' of him taking on the current WBA Super World Welterweight champion Manny Pacquiao. It'd be a step up in both weight and class for Garcia who was born in 1987, nine years before Pacquiao.
When the fight is confirmed, there will be plenty of betting opportunities available at Colorado sports betting sites but who'll win? Garcia lacks experience and that would be a major factor in a fight against someone like Manny Pacquiao. He made his debut in June 2016 and has only fought 67 rounds in his professional career. Pacquiao made his pro debut in 1995, that's three years before Garcia was even born!
The lack of rounds has been caused by a succession of early wins. 18 of his 21 wins have been won inside the distance. The worry Garcia has to have is moving up in weight to face Pacquiao. Many are wondering why he doesn't stay in the lightweight division as there are some great fights to have. Also, if Campbell can floor him, then a heavier Pacquiao must have a chance of doing the same. Beating his legendary opponent would certainly give his career a massive boost though and make for a bout of the year contender.
With 71 professional fights and 486 rounds fought, Pacquiao has probably forgotten more about boxing than his possible opponent knows. He's not getting any younger of course. Pacquiao is 42 years old but still has a great deal to offer in the ring.
His most recent fight was in 2019 when beating Keith Thurman on points. That was his third straight win since a surprise loss to Jeff Horn in 2017. With a win over Adrian Broner six months before that fight, even in his 40s, Pacquiao is not one to dodge opponents. He'd take a fight with Floyd Mayweather any day of the week.
His legacy is already an amazing one with world titles in eight divisions. Beating Garcia would add to his reputation. Losing wouldn't help it though, especially if being knocked out. A fight between an up-and-coming fighter and a legend is always one to look forward too, so hopefully it will happen.