[AdSense-A]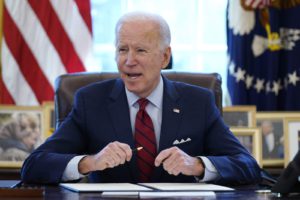 By Nikki Slusher
Now that President Joe Biden has had a month on the job it is time for the honeymoon phase to end. Domestic pressure is already challenging the president's administrations attempts to negotiate deals in Asian countries. This comes as President Biden has started working on efforts to hinder China's economic and political stronghold in the Asia-Pacific. James Crabtree, a professor at Singapore's Lee Kuan Yew School of Public Policy, told CNBC that one potential problem stems from Biden's promise to rebuild America's middle class. Crabtree noted that these efforts may receive pushback on policies that Asian countries agree to.
"The reality is that America's economic weight is declining, Chinas is increasing. And China is also doing a pretty good job of stealing America's clothes as the protector of free trade in the region," Crabtree added. Crabtree continued, saying that traditionally the US "tried to use both its security and economic power to entice allies into its camp. So for instance, it set up the original TPP Trade Agreement."
The Trans-Pacific Partnership (TPP) is a trade pact that was negotiated by President Barack Obama and 11 other countries, mostly made up of countries in the Asia-Pacific, therefore excluding China. Originally the trade deal would have been the world's largest and would've consisted of 40 percent of the global economy.
The position of the US in the Asia-Pacific would be enhanced, ultimately counter-balancing China's political and economic influence in the region. Yet due to wide criticism here in the US, in both Congress and from President Donald Trump, the agreement was revised after Trump's pullout in 2017. Prior to the revision, Trump claimed the TPP would accelerate the decrease in manufacturing in the US and be detrimental for American workers.
Professor Crabtree's discussed how Biden will have to be "imaginative" in finding ways to reassert the US throughout Asia, especially if he plans on keeping his promised economic and trade policies that are directed at benefitting the American middle class. Foreign policy experts have said that the US won't make any moves involving China before fall, but the direction is heading that way as President Biden is bulking up his foreign policy team with experts on Asia.
Contact the Feature Writers