"Randy's Ringside" On Ringside Report
[AdSense-A]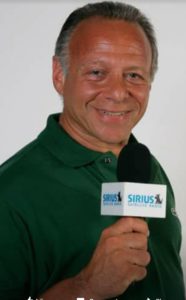 By Randy "The Commish" Gordon
At the moment, as we begin to emerge from a pandemic which wreaked havoc on the planet in 2020, boxing is looking like a budding flower during the first few days of Spring's warmup.
Before February was over, fans were treated to a fight so good, so exciting, so breathtaking—Oscar Valdez v Miguel Berchelt—that it's already a candidate for "Fight of the Year," Knockout of the Year," "Performance of the Year" and "Upset of the Year."
In the first few months of 2021, boxing fans have already seen a sure-fire future heavyweight champion—Jared Anderson—living up to his accolades with an overpowering knockout win; we were impressed with the ruggedness of the newly-crowned WBO Super Welterweight Champ Brian Castano; we saw the coming-to-prominence of a terrific, hard-hitting, undefeated and cocky light named Rolando Romero; we saw the rise to stardom of a fast, power-punching lightweight named Ryan Garcia; and we saw the continued brilliance of Saul "Canelo" Alvarez.
While every division –from Minimumweight to Heavyweight—is stocked with stars, superstars and future stars, no division is more laden with talent than the lightweight division.
Not since the days when Roberto Duran ruled the lightweight division—nearly 50 years ago—have we seen the 135-pound division so filled with talented-laden fighters. That alone speaks to the growth of the sport.
Let's take a look at how the 135-pound division stacks up, using my ratings—"Randy's Ratings—rather than the ratings of any alphabet soup organization or boxing magazine (which I once ran and compiled, using an International Ratings Panel.
From 1-10, the Lightweight Division of "Randy's Ratings" looks like this:
1. Teofimo Lopez
2. Vasily Lomachenko
3. Gervonta Davis
4. Devin Haney
5. Ryan Garcia
6. Rolando Romero
7. Richard Commey
8. Javier Fortuna
9. George Kambosos
10. Gustavo Lemos
What a division this is! No division in the sport is as rich with talent as is the 135-pounders are. Let's take a look at each of the guys I have rated, starting at Number 10.
Gustavo Lemos, nicknamed "El Electrico," is unknown to most of the boxing public outside of his home in Buenos Aires, Argentina. That's because, in nearly five years as a pro—and for all of his 26 fights, of which he's won 16 by knockout—Lemos has only fought in his home country. But now that the pandemic is showing signs of subsiding, the 24-year-old Lemos and his longtime promoter, Osvaldo Rivero, are looking northward, towards the USA, where a plethora of 135-pound talent awaits him. Lemos, who is one of Argentina's busiest promoters, has worked with Lemos from the start.
"He can box with the best and he can punch," Rivero said of Lemos. "In the last few months, he's fought twice, winning both by devastating stoppages. He's ready!"
Next up the rung in "Randy's Ratings" is Sydney, Australia's George Kambosos. He's called "Ferocious" for a reason: Not only has he beaten all 19 men he's faced…he's stopped 10 of them with a relentless and tireless pressure style. In his last outing, he outhustled contender Lee Selby in winning a 12-round split decision to put himself in line for a shot at the title. He was given that shot within the last few days, when "Triller" CEO Robert Kavanaugh outbid both Bob Arum and Eddie Hearn for the right to promote Kambosos' next fight—against none other than unbeaten Teofimo Lopez. The fight may be part of the Mike Tyson-Evander Holyfield "exhibition" in May or June.
Javier Fortuna is a a vicious, fast-handed boxer/puncher who resides in Massachusetts by way of the Dominican Republic. He began boxing as a pre-teen, and won many amateur titles. He began his pro career in 2009, and went undefeated in his first 30 fights, winning the WBA Super Featherweight Title along the way. After struggling to make 130 pounds, he lost to Jason Sosa in 2016. Three months later he returned as a lightweight, winning all four of his bouts, two by knockout. Against then-unbeaten Robert Easter in January 2018 for the IBF Lightweight Title, Fortuna dropped a split decision. Since that time, he has gone unbeaten in four bouts, stopping his last two world-class opponents in devastating fashion. At 31, he is seemingly in his prime and getting better. On his night, he can give any of the other lightweight contenders—or champions—the fight of their life.
Richard Commey won the IBF Lightweight Title with a second-round stoppage who of Isa Chaniev in February 2019 and made a successful defense with an eighth-round knockout against Ray Beltran four months ho later. In December of that year, he hoped to close the year with a victory which may have put him in the running for 2019's "Fighter of the Year." It wasn't to be. His opponent that night was Teofimo Lopez, who knocked him out in the second round. After taking COVID 2020 off to regroup, Commey returned on February 13 with a power-packed, sixth-round knockout of Jackson Marinez, who entered the ring with a 19-1 record. Commey says his goal is to become champion again, and to beat Lopez in a rematch.
Rolando Romero is a 25-year-old powerhouse who had went 2-2 in 2020. However, his second—and last—victory in 2020 was a one-sided, yet uninspired victory over Jackson Marinez, the same guy Richard Commey KO'd six months later. On January 21 of this year, Romero faced 10-2 Avery Sparrow, whose two losses had been by decision and disqualification. Romero went out, winning six straight rounds before stopping Sparrow in the seventh round of their scheduled 12-rounder. After the fight, he said there's no 135-pounder he won't fight—except Gervonta Davis. That's because he said they are good friends. He said if he had to, though, he'd take the fight. The kid is confident. And talented!
Ryan Garcia has rapidly become, to many, boxing's newest "Golden Boy." He is 21-0. He has knocked out 18 opponents in devastating fashion. He is just 22 and boyishly handsome. In his last fight, which took place on January 2 of this year, in a fight against Luke Campbell for the interim WBC Lightweight Title, Garcia picked himself off the canvas in the second round to come back and knock out Campbell in the seventh round. Since that victory, there has been lots of talk on who he will face next. For awhile, it looked like Garcia might face future Hall-of-Famer Manny Pacquiao. Most recently, Garcia has been calling out Gervonta Davis, which would be one of the biggest fights in the division. While he's been opponent hunting, he has also been busy outside the ring. He recently became the first boxer to sign a promotional agreement with Gatorade, and for last Saturday's Canelo Alvarez-Avni Yildirim fight on DAZN, who did excellent work as a between-fight commentator. Should he keep winning, his outside-the-ring attributes are sure to help him transcend the sport of boxing
Devin Haney is the WBC Lightweight Champion. He is 25-0 and has stopped 15 opponents. He has speed. He has power. As an amateur, he was 138-8. Among those victories was a decision against Ryan Garcia, when both were teenagers. Haney won the vacant WBC title against little-known Antonio Moran in May 2019. Four months later, he stopped another little-known opponent, Zaur Abdullaev in the fourth round. Then, in November 2020, he was forced to go 12 rounds against the faded Yuri Gamboa. Haney appears to have all the goods to dominate the division. In 2021, it's time to show us how good he is.
Gervonta Davis is 24-0. Only one opponent has gone the distance. However eight of his 24 opponents have had losing or .500 records. He is just 26, with room to improve. He is recognized by the WBA as both their Super Featherweight and Lightweight Champion. A devastating, one-punch knockout of Leo Santa Cruz last October 31 gave him both of those titles. It's curious as to what's next for Davis. Will he face one of the nameless, shameless contenders the WBA comes up with, or will he go for a major fight against one of the names listed in "Randy's Ratings?" Oh, and one more question. One more huge question: Will Davis be able to stay out of trouble between now and then?
Vasily Lomachenko is back in the gym and rehabbing after post-shoulder surgery following his loss to Teofimo Lopez last October. It's hard to imagine a fi ghter with a 14-2 record being considered one of the best in the world, but the fact is, that's exactly what he was. Upon his return, probably early this Summer, we'll find out if his massive boxing skills remain. Another question is: What division will he compete in? Will he stay at 135 pounds? Will he drop back to 130, which he makes with no problem. Any kind of successful comeback, especially against a top-level fighter, which are the only fighters Lomachenko wants to face, may not win him a title, but it almost-certainly will earn him 2021's "Comeback Fighter of the Year" award.
Teofimo Lopez is just 16-0 and only 23. Yet, he is on the very short list, behind Canelo Alvarez, as one of boxing's major superstars. His impressive 12-round unanimous decision against Vasily Lomachenko last October placed him on that elite pedestal. Days after the fight, Lopez told me and Gerry Cooney, on our SiriusXM show, "Cooney and the Commish," that he was done at 135 pounds. "I'm finished fighting as a lightweight," he said. "I can make the weight, but it's torture. Look for me to move to 140 for my next fight. As of now, it looks like torture for at least one more fight. That's because, in a purse bid won by Robert Kavanaugh, the CEO of streaming service "Triller," Lopez will be defending his title against George Kambosos. Should he beat the Australian, then may come a move to 140 pounds. An interesting matchup would be for Lopez to face the winner of this Spring's 140-pound unification between Josh Taylor and Jose Ramirez. But wouldn't it be great to see him stay at lightweight for just a bit longer, and face any of the others immediately below him in "Randy's Ratings?"
Yes, the other divisions are alive with talent and activity.
But when it comes to sheer talent, now division has it more than the Lightweights.
They are light only by name.
Randy "The Commish" Gordon is the Author of the hit book, "Glove Affair". Order your copy by clicking HERE.
[si-contact-form form='2′]