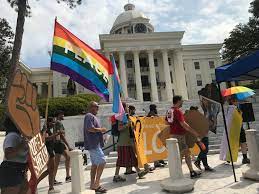 By Janet Grace
Today, there are so many variations of all types of natural life. We have grapes the size of nectarines, nectarines the size of grapefruits, grapefruits opening to reveal devil's innards, black fruit inside, pink tomatoes, petite peppers, etc. There are different types of flora, bugs, trees we've never seen before, different breeds of all types. GMO products and chemicals surely assisted in changing the scientific make up and structures of many foods as well as the brain cells of those who consume them. There are cancer – causing chemicals in the air that we breathe.
Another point to mention, is the fact that mankind; human beings; have never stopped evolving. Each generation is ten times smarter than the last.
My question is: why is it so simple to accept the rise of technology, the advancements in all things except, what, human? Why? We've cloned mice, dinosaurs, sheep, people and you mean to tell me that you can't believe it possible that there are different genders other than straight up male and female? You can't believe that a newborn whose baby genitals can sometimes be mistaken for each others genders, may have been mislabeled at birth? What about three year olds that scream bloody murder if not allowed to wear, an alternate perceived genders wardrobe, every single day of their lives, and refer to themselves as being opposite the gender stated on their birth certificate?
The soul knows who it is even if we don't.
We need law makers and government leaders who realize this, believe in the Importance of Upholding Trans and LGBQT Community in a positive light, and are intelligent enough to believe that justice for all includes all genders and non genders, non binaries.
These Anti-Trans bills brought through by 28 states, three of which have already been signed into laws in Arkansas, Tennessee and Mississippi, will eventually be found to be unconstitutional and repealed.
Right now, though, we cannot stand idly by. It is imperative that we seek legal means with which to open up this argument for a winning debate.
Illegally discriminating against one branch of people and denying them their legal rights as citizens of the nation, have been brought to us by none other than Cro-Magnon Man. If we cannot educate these archaic thinking creatures, then we must seek other means to remove them from their duties as representations and protectors of all.
All means all, not some. Our Transgender Family must be embraced and guarded against these heinous, criminal attacks.
If these Anti-Trans law makers were so concerned with having these bills solely be about banning Trans Children from playing sports representing their transitioning gender, why add a second bill blocking all but emergency medical assistance to Trans Teens? Why block their much needed meds?
With billions of years of lying to make up for, this world has been doomed for failure stemming from lies told to the majority, by those seeking power via corruption, since the very beginning. It's the same old song. There's always a villain involved.
Let's begin with the Garden of Eden. There were three people in the garden, not two. The male, the female and The One they were split from who was EVERYTHING and in whose image they were made. How do these fake holy rollers not realize that there aren't only two genders and from there, stems the problem?
Why are they so adamant to shut down, close off, discredit anything they don't want to understand? That's the number one question that I would ask them.
There has always been a Transgender population, hidden, perhaps, but nonetheless. Native Cultures believe (I was taught this as well) that there are five characteristics of genders.
Masculine Males, Feminine Males, Masculine Females, Feminine Females, Other Apparitions. That's no different than saying hydrangea, rose, lilly, tulip, iris. There's nothing incorrect about it. What is incorrect is the assumption that this is untrue. The same as you would check a mathematical equation, all you've got to do is look around you to see the proof of how many genders there truly are.
This is why those opposed to that which they know naught of, nor care to understand, operating out of fear in the guise of concern, are the only Masqueraders parading these bizarre bills within America's courts, making a spectacle of their own stupidity.
These Law Makers are completely out of touch with today's population. We have Generations of Free Thinkers who have always seen love in all things, giving birth to more of the same and so on for the last 50+ years vs. Racist and Discriminatory Faith-based BS.
The bottom line is that there are more of We, The Sane, than there are off them — the pedos, racists, bigots, rotten, dirty, scoundrels, et al. They're on their way out, age-wise, I'm sorry. Those are facts.
In the meantime, (moving right along with matching compassion) we have to do everything we possibly can to shed light on any injustice caused by them or anyone; wherever and whenever we see it, regardless of whom or what it's being directed towards because United is not only an airline.
Our being UNITED is the throat punch, upper-cut, knee to groin, ears to knee, not sorry, that these filthy traitors deserve.
How to go about doing that is through educating yourself with regards to what's occurring in the topic of your interest, gather articles, write, quote, share your findings, call your congress people and law makers, exercise your right to free speech and make your voices heard. Team up with others who share your views and amplify your message. See America repealing these binding laws and installing protections for the Trans Community.
These Cave Dwellers should no longer be allowed to work within our government. They could bag grapefruits, nectarines and oversized grapes at the Piggly Wiggly after serving time for crimes against humanity.
Hey, where there's a will, there's a way, Boys, Girls, Trans, Others and Non Binaries.
Again — It's OUR responsibility to, if we see injustice, to stop it, legally, intelligently, with our sights set on lasting results for the highest good of all.
Were you to round up those who have targeted a certain selected group of individuals, illegally discriminated against others with their relentless fear, not faith, in their hearts — you'd have a stadium filled with those that believe in forces greater than themselves which preach tolerance, loving your neighbor as thyself — you'd have a "Cast not that which is holy unto the dogs, neither cast ye your pearls before swine, lest they trample them under their feet, and turn again and rend you." Moment, fer sure, fer sure. Oh, that was Matthew 7:6=13.
Contrasting realities aside, Why is it so difficult for the Relentless Right Wing Radicals, to believe that perhaps the Trans Community, mostly made up of normal folks, perhaps more normal than gun toting Q-Non's, compassionate, genuine as they are, solely wanting the freedom to be who their souls assure them they are, aren't as common as the above mentioned foods and flowers?
Why is it such an affront to those who claim to be driven by the same prophets who would bitch slap them thrice and kick them out of the Kindness Club, if they saw them in action, so against those whose emotional preferences are different than their own?
Pick a Prophet, any Prophet, Buddha, Allah, Bodhisattva's far and wide, preaching unity, love, empathy would not recognize their teachings in the actions of these cruelties. Jesus' death to heal all sins, will be once again revered as a solemn day this coming Friday. Those same so called Law Makers infringing on the rights and minds of those they wish not to understand, will be fasting, eating lightly only to gorge on Easter Sunday, because He is Risen, but God Forbid they actually heed their own Savior's message.
Blessed be, All.
Peace, Out.
JG )O(
Contact the Feature Writers