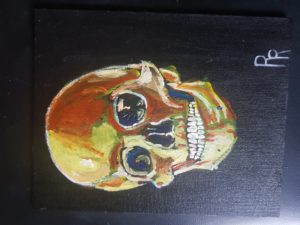 By Radical Rhymes
Mental illness is becoming more widely recognized, and a number of high-profile cases and celebrity sufferers have really helped that process. In my own world, which is partly defined by cricket, Marcus Trescothick has been critical in raising awareness. I am eternally grateful that he allowed us into his world – that he showed us the nature of his struggles.
And in another major part of my life – art – there is even a retrospective understanding developing. Vincent van Gogh's life is now examined through this lens. We recognise that he suffered, and we understand that some of his beautiful, soul wrenching art came from a place of pain and torment. Not all of it of course, we should never condense people to their illness or their difficulties, although we frequently do so.
However, from my own experience I would say that despite recognition, there is still a lot more to do in fully understanding mental illness, and even more to do in accepting its consequences.
Let me provide a couple of examples. I suffer from dysmorphia, as I've written about and set out elsewhere, I hate my own image. Most of my life is spent avoiding my own reflection and there are far fewer photos of me in existence than many people of my generation I would think – at least in so-called 'developed countries'.
Even as a child I tried to avoid having pictures taken, it was always uncomfortable for me. From memory, and mine is far from reliable as far as my early childhood goes, I believe it was from about the age of seven that these issues began. I was teased for looking like a girl – my older sister cut my hair and dressed me in feminine clothes – and for being ugly. School was a terrible place for me…
Such things shape a child, but this in conjunction with the life I lived at home, forged this hatred of self in my view. I was often invisible, and invisibility was something I craved. The paradox of wanting to be seen and the desire to be noticed has been constant for me. Living with ugliness but desperately searching for beauty.
All well and good, but how is that not understood? Because no matter how many people you tell, mo matter how much you try to explain it, there are two common responses. The first is outright denial. People will simply not believe what you're saying, or, and this is the worst, they will laughingly tell you that 'you're crazy!'
The other reaction is to reassure you about your looks: 'But you look okay to me,' or 'there's nothing wrong with you!' These are born out of kindness, but they are doomed to fail. No amount of external reassurance can impact upon the corrupted self-image. And this is where I look inwards and say that I am only now coming to understand it, I know what created it and maybe, with time, I can move past it. But no amount of reassurance from other people will do it, regardless of their good intentions.
The other example I offer to underline the lack of widespread understanding of mental ill health lies in the way people think about depression. One thing I've encountered is the tendency to dismiss it as sadness. Some people will extol you to 'cheer up', to rally or just 'get on with it'. They honestly think that the sadness everyone encounters in their lives is the same as depression, or that it is explicable as amplified sadness. This frequently compounds the problem because then you feel guilty and inadequate, that if only you made the effort then you could slough off the mood as if it were just a dirty item of clothing.
Sometimes though, people will go the other way and believe that they can help you, that they can cheer you up, or even 'make you happy'. This again creates problems. Not only because it's not true, but because it also amplifies guilt and generally leads to conflict. The truth is, and this is a general point that I am only now coming to appreciate, that happiness can only come from within. Externalities can aid it, they can even enhance it, but they can never create it.
Ultimately, again in my experience, many people will accept the problems of mental ill health until the consequences of it become inconvenient. This occurs in friendships, where the darkness induced silences lead to fractures. Most people in my life have left because they cannot cope with the long periods of silence. Although I have also driven people away by misuse or terrible treatment. I am genuinely sorry for those instances, there are so many I would repair if I could.
Mental ill health also causes untold problems in terms of employment and working generally. My university could cope with one protracted absence, but the second one was terminal. It was clear that they no longer wanted my services, even though I was good at my job. There was sympathy as long as there were no negative consequences, and to a lesser degree that also underpins less formal contracts. Certain individuals will jokingly accuse you of slacking or try to cajole you into doing what they want by comparing their own superior output to yours. Perhaps it's the spur you need? To be clear, it isn't.
The truth from my perspective is that society now acknowledges mental illness, but that it is far from ready to accept its consequences, whether that be professionally, personally or in almost any other area. However, this is not a finger pointing exercise, because as a sufferer, I can acknowledge my illness, but I am still a way off understanding, let alone accepting it. The reality is that it IS inconvenient, for everyone, and for those who experience it most of all.
Radical Rhymes is a professional artist working with a range of media – predominantly animal/human portraits and landscapes – including, most recently, hand painted furniture. You can see his work on Instagram Radicalrhymes1969 or on Twitter @RhymesRadical.
For commissions, please contact him on Twitter via Direct Message or by email at: radicalrhymes@outlook.com His work is also available to buy on Etsy
Contact the Feature Writers