Former Boxing Champion Julio Cesar Chavez JR. Faces Former UFC Champion Anderson Silva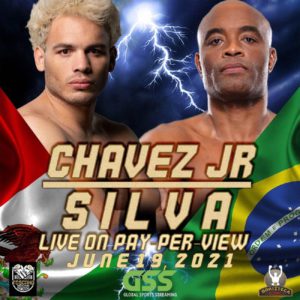 By "Bad" Brad Berkwitt
In what is becoming more frequent in boxing, we once again, have a UFC fighter facing a boxer in a boxing match. The biggest one to date happened on August 26, 2017 when at that time P4P Boxing Champion Floyd Mayweather, JR., 50-0, 27 KO's faced a former UFC Champion in Conor McGregor in what has been to date, his only professional fight.
The fight brought in big money for both, but was an absolute fugazy!
Fast forward… On June 19, 2021 at the Jaliscio Stadium in Jalisco, Mexico, former middleweight champion Julio Cesar Chavez, JR., 52-5-1, 34 KO's faces former UFC Champion Anderson Silva in a 10-round boxing match.
Promoter Saul Rios says the fight will take place at 180 pounds. This will be Silva's third professional boxing match. He suffered a first-round TKO loss to Osmar Luiz Teixeira in 1998 and won a second-round TKO over Julio Cesar De Jesus in 2005. Both earlier fights were held in Brazil.
Silva's record in the UFC stands at 34-11, 22 KO's and 4 submissions. He is thought of in many MMA circles as one of the best MMA fighters in the sports history. Silva was released from the UFC last year and a loss to Uriah Hall.
Chavez, JR. last defeated Jeyson Minda in November, but is 2-3 in his past five fights, which includes a loss to Canelo Alvarez.
So what to expect in this match? If Chavez, JR. comes in the ring in any kind of shape excluding round, he should easily beat Anderson Silva who for all intent and purposes doesn't belong in a boxing ring.
To further advance my feelings of the fight outcome, odds are favoring Julio Chavez, JR. at -250 according to Sports Betting Dime.
[si-contact-form form='1′]