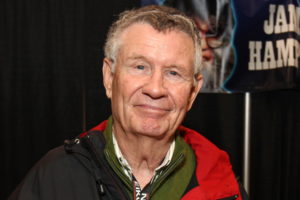 By Geoffrey Huchel
Television and film actor James Hampton, known for his role of Hannibal Dobbs on the series F TROOP, died April 8, 2021, in Fort Worth, Texas, from complications due to Parkinson's. He was 84.
Hampton began his acting career performing in summer stock in Texas and then moved to New York City where he began winning film and TV roles. In addition to F TROOP (1965-1967), Hampton is also known for roles in THE DORIS DAY SHOW (1968-1969), THE LONGEST YARD (1974), SLINGBLADE (1996), and for playing the dad to teen werewolf Michael J. Fox in TEEN WOLF (1985).
His additional film and television credits include GUNSMOKE (1955-1975), LOVE, AMERICAN STYLE (1969-1974), THE CAT FROM OUTER SPACE (1978), B.A.D. CATS (1980), THE DUKES OF HAZZARD (1979-1985), WHO'S THE BOSS (1984-1992), SIMON & SIMON (1981-1989), MURDER, SHE WROTE (1984-1996), PUNKY BREWSTER (1984-1988), POLICE ACADEMY 5: ASSIGNMENT MIAMI BEACH (1988), DAYS OF OUR LIVES (1965-), NEWHART (1982-1990), FULL HOUSE (1987-1995), TEEN WOLF TOO (1987), PUMP UP THE VOLUME (1990), and THE LAST RIDE (2011).
Ringside Report sends our condolences to James Hampton's family during their time of grief.
Contact the Feature Writers