By Donald "Braveheart" Stewart
It certainly has been a tough year and when news came of the loss of Oscar "Shotgun" Albarado, 57-13-1, 43 KO's though he was a name unfamiliar to me, the outpouring of condolences told me that this was someone worthy from the sport.
I discovered a little more than that. Aged 72, Albarado lost his life whilst living in a nursing home in February 2021. Nicknamed "Shotgun", because he threw punches in bunches and made them pay, it was his manager who gave him the name but Albarado himself turned it into a fearsome reputation, with a wicked left hook and right cross. He was so successful that this Texan managed to bag himself a world title at 154 pounds whilst being one of the most popular fighters on the West Coast at the time.
In one interview, Former opponent, Armando Muniz, speaking a few years ago remembered him fondly. "He was strong. Had a great chin. Our fight was tough."
Many of his fights were tough and the effect of so many tough fights is part of the story of why he found himself in a home.
In 1966, he was the tender age of 17 years, when he turned professional. It was a stoppage in the final and forth round at the Municipal Auditorium in San Antonio against Genaro Morones. His first "big fight" came on September 30th 1968 when at the tender age of only 20 he beat, and did so convincingly – with a first round knockout, of the highly touted, Lonnie Harris. From there it was only matter of time before there were even bigger fish for him to fry.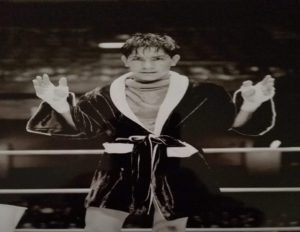 His first twenty five fights, in fact, ended with his hand raised, getting the win until he met Hedgemon Lewis in 1969. It was a big loss, a significant one though Lewis was certainly not someone to lose to and feel disgraced by. No quarter given none asked, he may have lost to Lewis but he was hardly downhearted, being back in the ring just two months hence where he stopped his opponent, Johnny Brooks in seven rounds.
Albarado went back to attracting attention and making waves. Surfing a very decent win rate for the time, it was not long before there were bigger fights an opportunities.
Then on May the 6th 1971, in the Los Angeles Olympic Auditorium, in the opposite corner was the undefeated Armando Muniz. It was a war. They went at each other as if their lives and careers depended upon it. The end result was a spectacle for the fans described by more than one as a roller coaster. Having to depend upon the score cards and the judges did not end so badly as they could not separate them – almost like the referee in the fight – and it was declared honors even – a draw. His presence was becoming hard to ignore.
Another two years of fighting in the trenches led to a headline appearance, back at the Olympic Auditorium and it was a rematch. Three weeks prior – yes three weeks! – Dino El Cid had beaten him, stopped him in the very first round! Now he wanted to avenge the loss. Having been stopped by Dino El Cid in May 1973, he knocked him out in the second in June!
It was a measure of him as a fighter that this swinging, gung ho and come forward style was to serve him so well when, fighting away in japan in 1974, he had a world title to fight for. He took on the defending junior middleweight champion, Koichi Wajima in his own backyard. In what one commentator described as a slugfest, Wajima was stopped in the 15th round.
Albarado was a world champion.
Oscar Albarado was 25 years old, and it had taken a remarkable 55 fights to get a title shot. Making it to the top of the mountain had been tough.
He fought three times in a world title fight – all in the same venue. Nihon University Auditorium. Having won it in June, he defended it in October 1974 and kept it in a 7th round stoppage of Ryu Sorimachi. He then went back and rematched Wajima in 1975, losing on points. Oscar's son, like many, believed that his father was robbed in the rematch. He asked his father about what happened, to which with characteristic stoicness, he responded, "You win some, and you lose some."
A disappointed Albarado retired after the bout; but returned in 1980 following five years in retirement. Coming back was down, it is believed to the need to put food on the table. Oscar Albarado Jr, reflecting on his father's career, in a recent interview as part of an online obituary was frank enough to admit, "…all he was looking for was a paycheck."
He was no longer the same fighter. He was not the guy who had fought caught the eye though his final years in the ring saw him take on Bobby Czyz, Bernard "Superbad" Mays, Louis Arcaries and John Collins as well as, in his final fight, Ayub Kalule in Brondby Denmark.
Staying in the ring for longer than he ought, was one of the reasons why, some think, that though a man of considerable charm, he found himself wandering the streets of Texas, as everybody's friend. The sport had been his friend but once he had left his building, the building as it does to so many former fighters, appears bare.
Health issues became his biggest fight and over the years he struggled to deal with them. Eventually those problems that come with being the guy who fought so hard in the square ring were too much and we lost a wounded but a proud pugilist.
I was fortunate to be able to reach out to someone who knew Oscar and that was boxing trainer, promoter and former highly regarded amateur fighter, Steve Canton who responded with a touching and succinct tribute. "Oscar Albarado came from a different era of fighters. He was old-school. He didn't care who he fought or where. He was confident in himself. He wanted to keep busy and make a decent living. When you ask why he would go to Japan to fight his title fights it was because that promoter offered more money than he would have made here. Different from today's fighters who don't fight often, worry about who they are going to fight and for how much, fighters from his era only cared about fighting and keeping busy. That was their life, that was their job and that was their love."
And so, it is our love as well. My thanks to Steve Canton, for his help as we salute those who make our jobs that much more interesting through their sacrifice and service.
Contact the Feature Writers