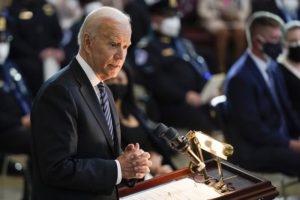 By Nikki Slusher
Reports on Tuesday revealed that President Joe Biden plans to have all U.S. military forces withdrawn from Afghanistan by September 11th of this year. The date will mark the 20th anniversary of the 9/11 attacks and be the ending of U.S. presence within the Middle Eastern country after what is now America's longest war.
The Biden Administration's plan will add a three-month extension from former Pres. Donald Trump's original negotiated deadline of May 1st. Biden's decision comes after the President and his administration agreed that there "is no military solution" for the problems in Afghanistan. Instead, Biden plans to focus efforts on having the U.S. support diplomatic movements between the Afghan government and Taliban officials in order to reach a peace agreement.
A senior WH official spoke briefly to reporters on Tuesday under the condition of anonymity that although we will focus on diplomatic relations, we will be doing so from abroad. "But what we will not do is use our troops as bargaining chips in that process," said the official. Biden will formally announce the plan on Wednesday with specifics and other imperative details on "the way we move forward in Afghanistan," said WH Press Sec. Jen Psaki.
Senate Minority Leader Mitch McConnell took to *big sigh* Twitter to let out his thoughts on the withdrawal decision. "Foreign terrorists will not leave the U.S. alone simply because our politicians have grown tired of taking the fight to them. The President needs to explain to the American people how abandoning our partners and retreating in the face of the Taliban will make America safer."
McConnell's short-term memory loss includes how this was initially Trump's plan after her forged this agreement with the Taliban back in Feb. 2020. He also loudly supported peace agreement negotiations between the two groups. There was also that one time Trump had also invited Taliban officials to Camp David in 2019, however the meeting was "abruptly" cancelled by the former president.
The rest of Washington D.C. is also divided on the withdrawal because that's what they do best. More updates are expected to come as the story continues to develop.
Contact the Feature Writers