Two Dead, Three Injured In Richmond, VA Shooting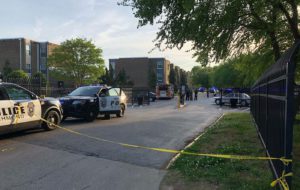 By Ty Ross
On Tuesday, April 27th gunfire erupted in the courtyard of the Bell Atlantic Apts in Richmond, VA. Filled with women and children playing, 30 year old Shamez Hill and her three month old daughter were caught in the crossfire and killed. Hill died at the scene, her daughter died at the hospital. A gunshot wound to the stomach. Three unidentified victims, ages 11-29, were taken to the hospital.
No one knows what precipitated the shooting, or why. Why anyone would shoot into an area filled with children.
Since the shooting, Richmond police have arrested three suspects. 19 year old Shamondrick Perry, 22 year old Donald Hemmings and 23 year old Shyheem Martin have been apprehended and taken into custody.
On the same day, a 14 year old was charged with the felony murder in the shooting of 15 year old high school freshman Jaywan Riley over two weeks earlier. There is no known motive for either of the two shootings, which both happened in South Richmond. But one thing is certain, neither should have happened.
Check out Ty's book THE POWER OF PERSPECTIVE. It's a collection of affirmations she wrote to get her through a difficult time in her life. Words of wisdom that apply to anyone, and everyone, to get through the hard times. If you're questioning yourself, and need a reminder that you are in control… Click HERE to order your copy.
[si-contact-form form='2′]