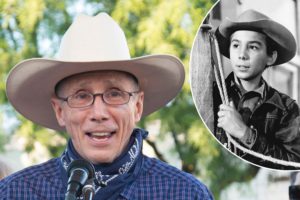 By Geoffrey Huchel
Johnny Crawford, an original Mouseketeer and star of the television series THE RIFLEMAN, died April 29, 2021. The actor was diagnosed with Alzheimer's disease in 2019. He was 75.
The former child actor was born on March 26, 1946, in Los Angeles, California. He appeared in 17 episodes as a Mouseketeer on THE MICKEY MOUSE CLUB (1955-1958). Following his time on the MMC Crawford continued to make appearances in TV series and films including THE LONE RANGER (1949-1957), THE COUNT OF MONTE CRISTO (1956), COURAGE OF BLACK BEAUTY (1957), WHIRLYBIRDS (1957-1960), WAGON TRAIN (1957-1965), THE DONNA REED SHOW (1958-1966), MISTER ED (1958-1966), RAWHIDE (1959-1965), HAWAI FIVE-O (1968-1980), LITTLE HOUSE ON THE PRAIRIE (1974-1983), THE THIRTEENTH FLOOR (1999) and THE MARSHAL (2019). He is best remembered for his role of Mark McCain on the Western series THE RIFEMAN (1958-1963). At age 13 he was nominated for an Emmy Award for Best Supporting Actor for his work on the show.
Crawford also had a brief career as a recording artist during the 1950s and 1960s.
Ringside Report sends our condolences to Johnny Crawford's family during their time of grief.
Contact the Feature Writers